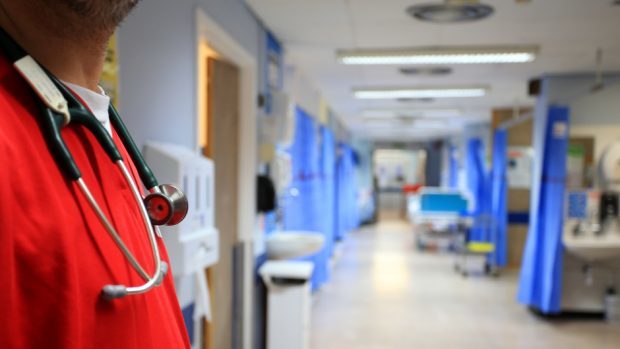 Cash-strapped NHS Highland splashed out almost £2million in compensation to patients last year – and £5m in the last five years – for a catalogue of errors.
Failing to adequately monitor the first stages of labour, misdiagnosis and dispensing inappropriate drugs are among the litany of clinical claims settled.
North MSPs last night branded the figures "eye-watering" and said they would be raising the issue with the health authority's new chief executive, who started last week.
Figures provided under a Freedom of Information request by the Press and Journal reveal NHS Highland made their biggest payout in the last financial year, 2018/19, of £1,944,941 – to 11 patients.
They also made settlements of more than £1m in each of 2014/15 and 2015/16 – £1.37m and £1.28 respectively.
A total of 54 patients have been handed compensation payments – totalling £4,985,323 – in the last five years.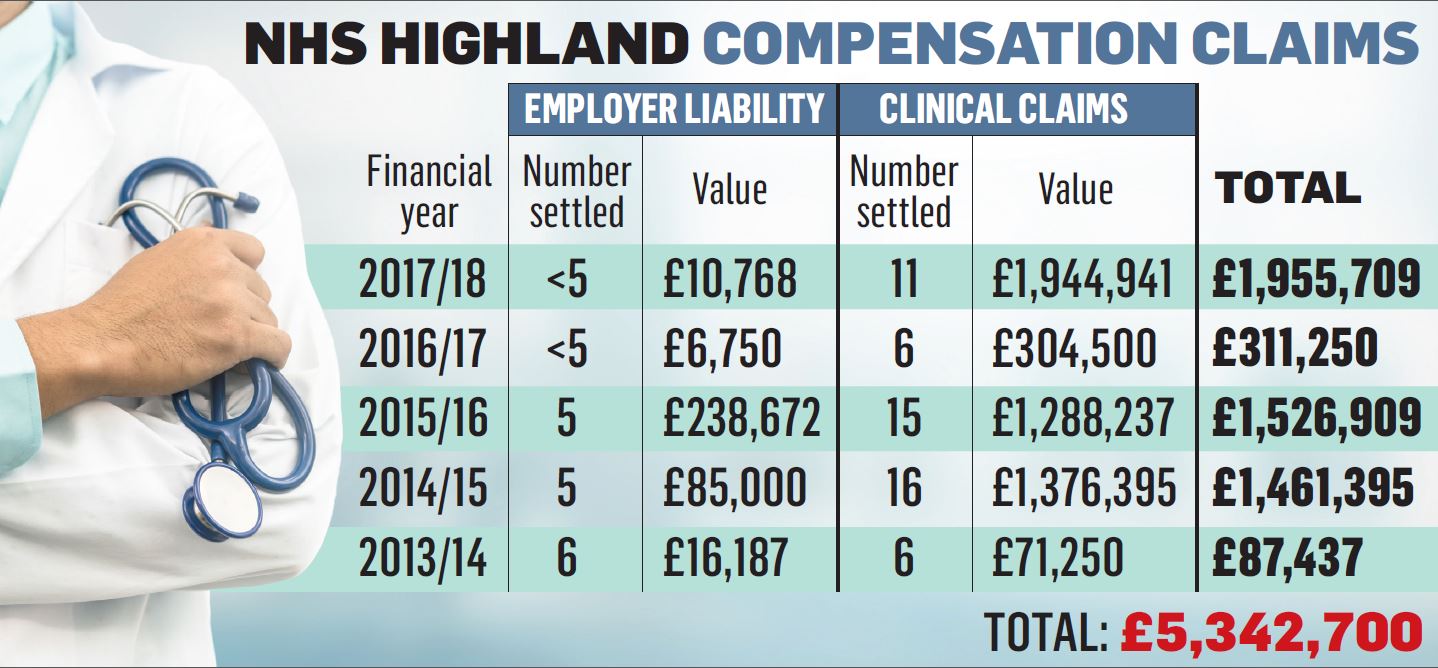 The health authority also made compensation payments to around 20 employees, totalling £339,859 in the last five years.
Staff made claims relating to "moving and handling", "slips, trips and falls", "violence and aggression" and accidents caused "by some other means".
Highlands and Islands MSP and shadow health minister David Stewart said: "These figures will be an eye-opener for the public who will be taken aback with the huge amount of clinical claims compensation paid out in 2017/18.
"What has to be remembered is that there are patients and their families behind these statistics who have received this compensation because of something that happened to them while receiving care.
"I am sure that they feel any money paid is their due."
He added: "These figures leave many unanswered questions, including why compensation jumped to such a high level last year.
"The costs are extremely worrying and I will be raising them with the new NHS Highland chief executive."
Edward Mountain MSP branded the figures as "shocking", adding: "NHS Highland is under considerable financial pressure and I am horrified to see that in the last five years compensation claims to staff and patients has exceeded £5m.
"I am concerned that 'violence and aggression' was one of the reasons given for claims by staff. We need to urgently address this unacceptable behaviour.
"I am sure we all would rather see all this money going into delivering an excellent service rather than compensating those that the system has failed.
"We need good management and I will be taking this up with the new chief executive."
Kate Forbes MSP said: "These figures are jaw-dropping and eye-watering at the same time.
"Mistakes happen, but these have a phenomenal impact on people's lives as well as NHS Highland's budget.
---
---
"At a time when tax payers want to see their money used wisely and effectively, there are legitimate questions about compensation claims.
"I am very optimistic that the new chief executive of NHS Highland will get a grip of the situation and start to turn the organisation around."
An NHS Highland spokesman said: "In common with other boards across Scotland, NHS Highland takes any adverse event very seriously and undertakes to investigate, learn and take steps to lessen the chances of such an incident.
"Any clinical or employee liability claim is investigated rigorously by solicitors acting on behalf of NHS Highland and also by staff within NHS Highland.
"Based on the outcome of this investigation, claims may be repudiated, defended or claimants may be compensated.
"The actual payouts to individual staff and patients vary hugely.  Also, given small numbers of claims settled, annual variation can be quite significant – one or two high value claims can make a large difference from year to year recurring."
NHS Highland is currently facing an overspend of around £19million on its £600m budget this financial year.
New chief executive Iain Stewart, who is originally from Stornoway, took up the £137,379-a-year post last week following the retial of Elaine Meade.
Claims breakdown
NHS Highland gave a breakdown of the type of claims settled, stating: "We are able to provide a list of the categories under which clinical claims and employer liability claims are recorded and the areas involved."
Clinical claims:
Failure to diagnose/delay in diagnose
Failure of follow up arrangements
Failure to carry out routine investigation
Incorrect diagnosis made
Failure to recognise complication of treatment
Intra-operative problems
Performance of operation that is not indicated
Failure to carry out adequate post-operative observations
Failure to adequately monitor first stage of labour
Unknown and unclassified obstetrics
Medication errors – inappropriate drugs
Healthcare acquired infection
Other clinical
Non-clinical
Employer Liability Claims:
Moving and handling
Slips Trips and Falls
Violence and Aggression
Accident cause some other means