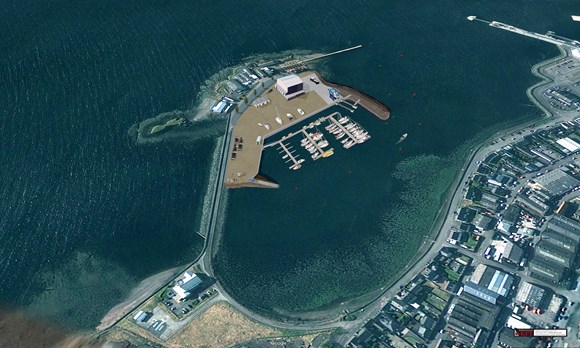 A massive project for a marina and facilities at Stornoway Harbour received a £3.5million funding boost from enterprise chiefs yesterday.
The announcement came as deputy first minister John Swinney met key representatives of the Stornoway Port Authority (SPA) and Highlands and Islands Enterprise (HIE) bosses in the Lewis town.
The revamp of Stornoway Harbour is set to bring a boost to the local economy and marine tourism, with the new marina planned to be in place within the next 20 years.
Alex Macleod, chief executive of SPA, said: "The development of the new marina is a major part of our Master Plan and will bring significant economic benefits to Stornoway and the wider islands, as well as to visitors.
"At present, there is a shortage of yacht berths and amenities which is constraining potential growth in marine tourism.
"The improved facilities will be better, safer and more attractive for boat owners and this funding from HIE will help progress a major milestone project."
The latest progression is set to see 70 new berths created at the marina, with a marine engineering workshop and infrastructure to support a new food standards building also being constructed. In total the new development is to cost £11million in the Newton area.
Work is expected to get under way in April.
Deputy First Minister Swinney said: "Our seas continue to be a central feature of Scotland's economy and our plans for jobs and growth.
"Remote communities in particular greatly benefit from marine tourism, resulting in additional business, jobs and prosperity. The creation of a new marina at Newton will have a positive effect on the wider economy for years to come."
The Western Isles Council has also committed £2.75million towards the project, as part of the Scottish Government's Regeneration Capital Grant Fund.
Outer Hebrides manager for HIE, Rachel Mackenzie said: "The marine tourism sector is making a significant contribution to the development of the Outer Hebrides and the port of Stornoway plays a key part in this.
"We are pleased to support the SPA's Newton Basin project which aims to safeguard the crucial role of the port in supporting the economic growth of Stornoway and the islands and we look forward to working with them in the future."