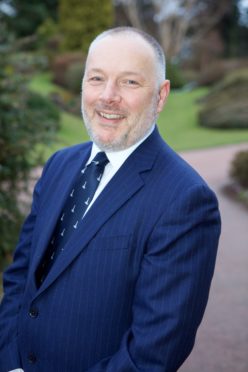 A new group has been formed to help run the busy Oban harbour as a trust port on behalf of the community.
It follows controversial proposals by the government body which owns the ferry pier and ferries to take control of the operation of the bay.
There was a major public outcry after CMAL (Caledonian Maritime Assets Ltd) announced plans to run the entire harbour.
Local business and leisure users of the bay said it would be unfair to have the biggest user having full control, and the harbour should be operated in the interests of the community.
---
>> Keep up to date with the latest news with The P&J newsletter
---
All interested parties are in agreement that, for safety reasons, a single harbour authority is required to operate the bay, which is becoming increasingly busy.
The Oban Bay Management Group (OBMG) and the Oban Bay Stakeholder Group (OBSG) have continued to progress proposals for new harbour authority arrangements.
The OBSG has recently completed an evaluation of the viability of operating a trust port which has demonstrated that it can be operated for a significantly lower cost than originally thought.
The stakeholder group has formally requested that the members of the OBMG support this as the preferred means of managing activity in the Oban Bay area.
A new Oban Community Harbour Development Association (OCHDA) has been formed to support the proposal for a trust port.
At present, whilst the trust port proposal is being developed, the OBMG proposal that CMAL is established as the single harbour authority and the preparatory work needed for a Harbour Revision Order (HRO) is on hold.
The option of CMAL extending its harbour area remains on the table should a trust organisation not emerge or proves unviable.
All harbour proposals must comply with the Port Marine Safety Code and operate for the benefit of all users.
A public meeting will take place on Thursday, March 28, at 7pm at the Argyllshire Gathering Halls, Breadalbane Street, Oban, to update the community.
Phil Day, chairman of the OBMG, said: "We are committed to ensuring that, whatever the harbour authority arrangements, the town of Oban benefits and that there is a clear focus on navigational safety, the local environment and economy, and access to the islands.
"Over the winter period, following consultation with stakeholders and approval from the Maritime and Coastguard Agency (MCA), which is currently responsible for navigational safety within Oban Bay, the OBMG has continued to develop initiatives to improve safety for all users at Oban.
"We encourage those with an interest in the harbour arrangements to attend the public meeting to find out more and raise any questions or concerns they have."
A number of new safety initiatives are being developed by the OBMG.