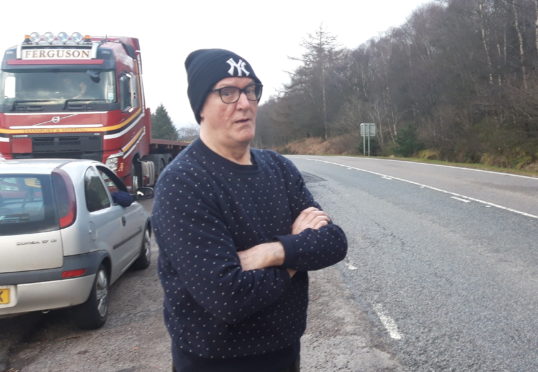 Furious drivers have won tens of thousands of pounds for damage caused by potholes on the A82 since a social media campaign group was launched, it has been claimed.
Martin Pawsey, known as Mr Pothole to those he has helped, started the A82 Pothole Group on Facebook after his BMW hit one and he had to have two alloy wheels replaced, costing more than £1,000.
The campaigner group claim that, in the last few weeks alone, drivers have succeeded in getting more than £20,000 from BEAR Scotland, thanks in the main to the advice on the social media outlet.
---
Keep up to date with the latest news with The P&J newsletter
---
Three car owners who hit potholes last week in Glencoe on the A82 say they have put in claims worth more than £10,000 – after broken window screens, damage to alloys, and one car that allegedly had to be written off, the damage was so severe.
Driver Phil Walker, 71, who says he damaged his car on a "crater" three miles south of Glencoe two weeks ago, said: "I am very disappointed about the damage to my car. I was furious when I found out that there had been other cars effected not only the day before – but the week before.
"I know that BEAR Scotland have a huge area to cover, but perhaps this is why the roads network has to sit with the local area, rather than half way across the country."
Group organiser Martin Pawsey told the Press and Journal started the social media campaign to encourage other people to complain.
Mr Pawsey said: "I set up the group in December 2017 after damaging two alloys on my new BMW. I was told that making a claim from Scottish Government roads contractor BEAR would be difficult.
"I found that they were hard to contact, and had no interest in my complaint.  I decided then to support other people as there was strength in numbers, and people knowing what was going on."
He added: "This is not really a 'have a go at BEAR group' we want things to improve on the A82, and we are seeing more involvement of the group in decisions.
"But what we do want is for people to know that they have the facts to hand, and to be able to claim with confidence.
"My advice to people is to take as much detail as possible. In the beginning BEAR would say they wouldn't pay out without photographic evidence of the pothole.
Highland road on path of destruction after cars succumb to mass damage
"But we argued that people should not be getting out of cars in the dark in the middle of the night to take photos.
"But I would ask people to take photos of the pothole if it is safe to do so, and to take down as much information as you can i.e. where the pot hole is, what time you hit it, and if other cars were around.
"You should also keep all paperwork about the damage, and take pictures of the damage as soon as possible. "
Shirley Buchanan, an administrator with the group, said: "We encourage people to post reference numbers in relation to reported road defects to aid others when making a claim for damages."
A spokeswoman for BEAR Scotland said:  "Our teams are working to repair road surface defects as quickly and safely as possible.
"All claims for compensation regarding potholes are assessed on a case by case basis and liability considered alongside requirements specified in our trunk road maintenance contracts.
"Teams will continue to carry out weekly inspections to monitor routes and note any defects, carrying out temporary repairs where required."