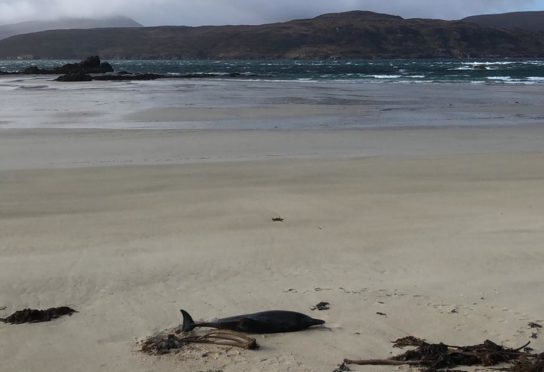 A female striped dolphin which became stranded on a beach in the north coast has died despite tireless efforts to return her to sea.
Two local residents raised the alarm to the British Divers Marine Life Rescue shortly after noon upon discovering the 100kg mammal on Balnakeil Beach in Kyle of Durness.
The pair frantically tried to stabilise the animal by covering it in water and seaweed as coastguard rescue teams raced to the scene to help tend to the stricken creature.
Emma Mayman from BDMLR said: "We were alerted by two members of public to a stranded cetacean up in the remote parts of Durness.
"It was quite agitated and active on the beach, and became stressed after being stranded for many hours on the sand. They worked together with advice from myself over the phone to stabilise the animal upright and covered it in seaweed to keep it damp.
"It was thrashing and agitated, so proved difficult for them to stabilise."
Teams from Melness, Durness and Kinlochbervie arrived on the scene a short time later, following the initial call at 12.20pm.
However, following  a concerted effort by the team to successfully return the animal to the sea, experts raised concerns for her welfare and ultimately felt there was no choice but to put her down.
As it transpired, just moments before the vet arrived, the dolphin died.
Ms Mayman added: "We requested local medics to attend and also requested the assistance of the Coastguard.  They arrived and were able to stabilise the animal and keep it hydrated until more backup arrived to get the animal in to the water.
"Our medic assessed it as in moderate condition, and as an approximately 100kg female striped dolphin.   Dressed in dry suits, they managed to get the dolphin out in to the water and were able to rock it to help try and reinstate it's equilibrium and by keeping it's blowhole above water.
"Sadly, the dolphin went into the water and wasn't really trying and kept turning around and came straight back on to the beach again.
"With this behaviour, it indicates a very compromised and unwell animal, and so the decision was made to have the dolphin euthanised. However, it died shortly before the vet could arrive."
A spokesman from Shetland Coastguard said members of BDMLR were planning to 'pick up the body of the whale' today to conduct a thorough autopsy.