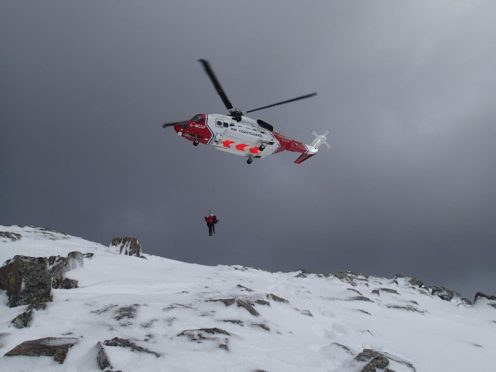 A man died in hospital yesterday after being rescued from a Glencoe mountain at the weekend.
The 57-year-old man was rescued along with a 49-year-old man after they were reported as missing on Friday night.
It was originally feared that they had been caught in an avalanche.
But following extensive searches involving six mountain rescue teams and coastguard helicopters the 57-year-old was airlifted from Stob Coire nan Lochan, part of the Three Sisters ridges in Glencoe.
He and his companion were found at about mid-day, both with hypothermia, after they spent the night on the mountain. They had become lost overnight in poor visibility.
His companion was taken to Belford Hospital in Fort William where his condition was described as stable and non life-threatening.
Both climbers were from Nottinghamshire and had travelled to the Glencoe area as part of a larger group.
Brian Bathurst, deputy leader of Glencoe Mountain Rescue Team, said: "This is a very sad outcome. The team would like to offer their condolences to the family. It is a difficult time."
The incident happened after the bodies of two climbers missing for almost a fortnight on a mountain in Pakistan were discovered.
Tom Ballard, whose family lived in Lochaber till his teens, was climbing Nanga Parbat in Pakistan with Italian Daniele Nardi when they lost contact on February 24.
Last month two well-known climbers also died after a fall on Scotland's most northerly Munro mountain. Andy Nisbet, 65, and Steve Perry, 47, died on Ben Hope in Sutherland.
Yesterday Andy Ravenhill, Oban MR team leader, said: "One of the Oban teams found the first casualty, who after a night out was in remarkably good condition, but not where expected, so a rapid redeployment of personnel was required to search a different area.
"The second casualty was found by Glencoe with us and the RAF in support higher on the hill. Unfortunately he was not in a good way and he was helicoptered off to hospital."
Andy Nelson, Team Leader of Glencoe Mountain Rescue Team, said: "We would like to thank two climbing parties who were on the hill on Saturday and who dropped their plans for the day to help and who played an important part in the rescue."
The risk of avalanche in Glencoe on Friday and Saturday was rated "considerable" by the Scottish Avalanche Information Service (SAIS).