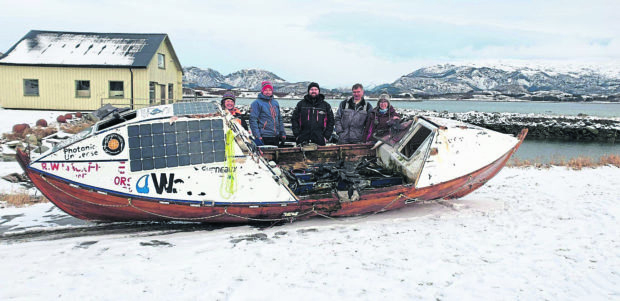 A boat abandoned by a Scot while attempting to row across the Atlantic has miraculously turned up in Norway nearly six months later.
Duncan Hutchison survived mountainous seas, brutal storms and even a shark attacking his home-made boat.
Mr Hutchison was picked up by the 590ft long Asphalt Splendor on September 22 – more than 1,000 miles from his destination of his home at Lochinver in Sutherland after his vital on board electrics failed.
The rescue came on Mr Hutchison's 100th day at sea in his boat Sleipnir and 863 miles from Land's End.
His 23ft boat was lost at sea after the tanker's tow rope broke.
But he has now received news that the boat had made it across the Atlantic without him.
It had washed ashore at Somna near Bronnoysund in Norway – as he predicted.
---
>> Keep up to date with the latest news with The P&J newsletter
---
His wife Marianne said her husband had ironically previously visited the area and was now working on getting it back home.
"It is amazing. Duncan was sitting at his computer when a picture of it popped up on his screen. He couldn't believe his eyes.
"It is pretty battered but he wants to get it back and is working on that," she said.
Mr Hutchison previously said he would make another attempt – if his beloved abandoned boat was found and he can raise the £10,000 to mount the bid.
"We will have to see what happens," his wife said.
Mr Hutchison wrote on social media: "I can't describe in words how grateful I am to the amazing group of people who have rescued my old pal, and hardy seahorse, Sleipnir.
"The saga continues."
Mr Hutchison previously gave an emotional account of how he came perilously close to disaster with the tanker that came to save him.
He was just feet from the vessel's giant propeller and in danger of being swept under the 37, 087 tonnes boat.
He was also "flung over the side underwater" hanging onto a safety wire, fearing he would be swept away to his death.
But he also lost Sleipnir and said he felt lost without her.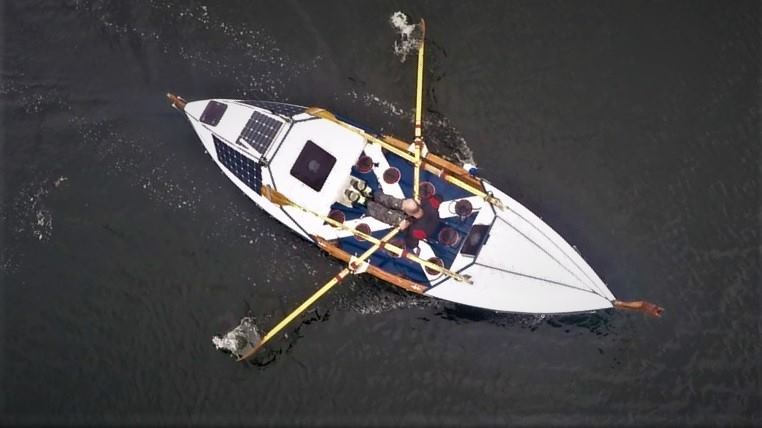 He said at the time: "I think, given the currents etc, she will probably be taken west of the Outer Hebrides and end up in Norway, maybe in four or five months time.
"If she is found – and somebody is prepared to fund it – I would try again."
Mr Hutchison got the idea for the row when he was building his wooden boat three-and-a-half years ago.
But not everything went to plan when he began his Atlantic journey. Mr Hutchison was taken off his home made craft on June 4 in a fierce storm 20 miles off New Jersey – and just four days after setting off from New York.
He set off again after the boat was located at Ocean City on June 15 and was rescued on his 100th day at sea raising money for the charity Wateraid.