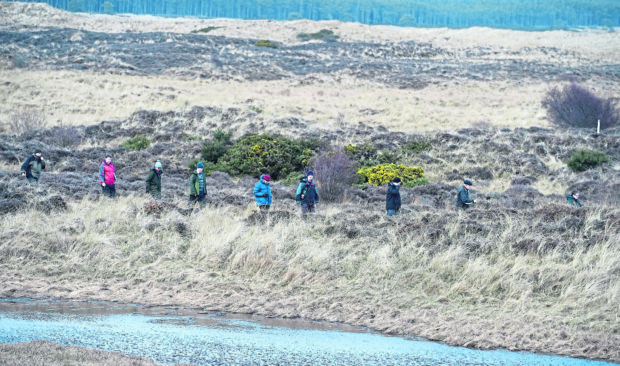 An expert witness yesterday told the Coul Links public inquiry that proposed plans are not flood-proofed, with coastal erosion anticipated to devastate at least two of the championships key holes over the course of its lifetime, according to his research.
Dr Jim Hansom, an honorary research fellow of the University of Glasgow and the lead of the Scottish Government-funded Dynamic Coast, was providing evidence as the third week of the inquiry got under way at Clashmore.
Dr Hansom produced evidence that suggests changing tidal patterns will more than likely seriously hamper much of the coast next to the proposed development, with 3D images predicting future change showing that the 15th and 17th holes will be significantly hampered by 2050 and 2100, should the worst-case scenario ensue and no preventative measures are put in place.
He also suggested that the evidence he was presenting to the inquiry should be considered above the report produced on behalf of the applicants by Professor Kenneth Pye.
Dr Hansom told the inquiry: "Coul cannot be looked at in isolation. We have got to look at Coul in terms of the wider context in the Dornoch Firth."
---
>> Keep up to date with the latest news with The P&J newsletter
---
"There are six golf courses around here within a 30 minute drive, all of them have got erosion issues and some have lost their clubhouses – we know that Dornoch has lost its clubhouse.
"Many are considering contingency planning now. The golf courses are Brora, which has issues at two of its greens; Golspie which has issues; Royal Dornoch is largely protected, there is only a small section that isn't, Skibo at the 18th is eroding and Tain is eroding.
Inquiry to begin into Highland golf course development plans
"So I guess you have got to look at what is happening at Coul in context to what is happening generally in the wider Dornoch Firth and I think our interpretation carries more currency than Professor Pyes."
Within his inquiry report, Dr Hansom recommended "the proposed golf course development at Coul Links should not, in my opinion, be permitted in its present form", citing failure to satisfy the development needs of the Scottish Planning Policy (2014) or the 2014 Scottish Climate Change Adaptation Programmes duties placed on local authorities when dealing with coastal development proposals in areas subject to coastal erosion risk.
Dr Hansom was cross examined by Ailsa Wilson QC on behalf of the developers, with Ms Wilson questioning Dr Hansom's reference to the other golf courses in the area, failing to find evidence to support the erosion stated within his inquiry report.
She also questioned Dr Hansom's merits to deliver a recommendation refusing the proposed development on the basis of failing to satisfy planning requirements without any expertise in the area.
Dr Hansom's cross examination concluded in yesterday afternoon, before Jonathan Hughes of the Scottish Wildlife Trust was called to the stand.
Mr Hughes is standing as a witness for the conservation coalition consisting of Buglife, Butterfly Conservation Scotland, Marine Conversation Society, the National Trust for Scotland, Plantlife, RSPB Scotland and the Scottish Wildlife Trust.
Coalition lawyer Neil Collar put questions to his witness, before cross-examination ensued from Ms Wilson.
Ms Wilson's cross examination of the Scottish Wild Life Trusts chief executive continues today.