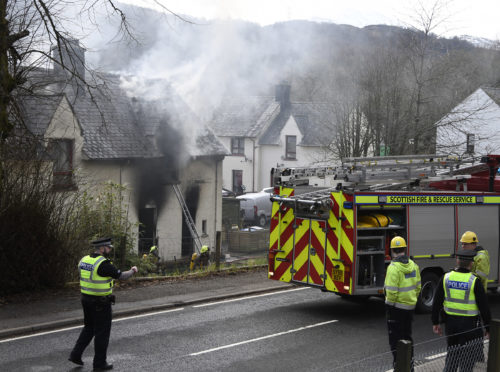 Firefighters battled a "good going" blaze for more than six hours on Monday in a Highland village.
No one was injured in the house fire that ripped through a semi detached home on Garry Crescent shortly before 11.40am.
A worried neighbour and passing drivers raised the alarm with emergency services.
Neighbours in the adjoining house were evacuated as a precaution, as 15 firefighters from three crews used breathing apparatus and a hose reel jet to tackle the blaze in the two-storey property.
Firefighters made a thorough search of the house and confirmed that no one was inside the property.
The house is adjacent to the main Road to the Isles, the A87 Invergarry to Skye road.
Smoke from the incident was said to have hindered drivers on the road, and it was closed to all traffic as soon as police arrived on the scene.
The A87 was closed for a number of hours, rerouting traffic while police and fire appliances from Foyers,  Fort Augustus and Drumnadrochit worked to bring the fire under control.
During the afternoon an incident support unit travelled from Fort William, some 36 miles away, to provide extra breathing apparatus to firefighters.
By 3pm the blaze had been brought under control, but firefighters remained at the property for salvage work on the building and to make sure hot spots did not relight.
One carriageway re-opened mid afternoon for vehicles to pass in convoy system.
A spokesman for Scottish Fire and Rescue Service said: "Three appliances were on site until 5.45pm.
"This was a very serious house fire with devastating consequences for the occupants of the house.
"Fire crews were in attendance for more than six hours as they tackled this blaze."
A Police spokesman said: "The house has been badly damaged by fire. By all accounts this was a good going blaze that has destroyed someone's home.
"There are no suspicious circumstance, and it is unlikely that there will be a criminal investigation unless any other matters come to light.
"There were no reports of anyone being inside the property."