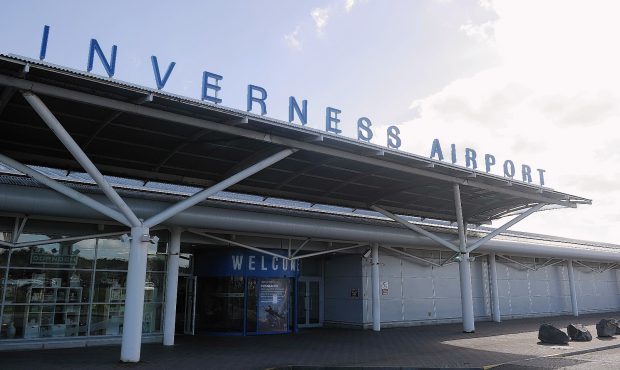 Furious politicians have slammed airport bosses for splashing out £12million on specialist and publicity fees in the past six years.
They have questioned Highlands and Islands Airports Ltd (Hial) over its transparency on public spending, including cash spent on a controversial plan to centralise air traffic control in Inverness.
Figures obtained by The Press and Journal following a Freedom of Information (FoI ) request have revealed that Scottish Government-owned Hial – currently facing strike action from air traffic controllers over a pay dispute – is spending an average of £2m a year on specialist reports and publicity.
---
>> Keep up to date with the latest news with The P&J newsletter
---
Shetland MSP Tavish Scott, who is angry over newly-imposed parking charges at airports across the region, including Sumburgh in his constituency, said: "Passengers will be wondering why their car parking charges are paying for glossy spin merchants.
"The Hial board has laughably confused priorities.
"Air traffic controllers are fed up, feel undervalued and are working to rule. Lifeline air services are at risk of disruption.
"Centralisation of air traffic control is throwing up serious safety concerns. So what has the passenger got for £12 million of professional advice?
"It is time that Government ministers had a close look at what this organisation is doing."
Highlands and Islands Labour MSP Rhoda Grant added: "As a public body Hial needs to be transparent about how it spends public money.
"I am concerned that some of this spending is linked to what is planned for the airport's centralised remote towers system, a proposal, which I believe, will be bad move for the Highlands and Islands."
Western Isles MSP Alasdair Allan said: "I still have reservations about HIAL's plans to centralise air traffic control functions from the islands to Inverness.
"I [have] met with Hial's air traffic management strategy programme director to discuss this in more detail.
"The union Prospect has raised concerns around the technology being used and HIAL will have some work to do to convince a sceptical public this will be as effective as air traffic controllers on-site. Ultimately, I do not want the islands to lose high-quality well-paid jobs."
A Hial spokesman said: "Hial works with many professional services and specialist contractors who support the business and operational functions of our airports and the communities we serve.
"Services include legal, non-operational, operational, and infrastructure support and account for approximately 6% of Hial's annual budget, which exceeds £193million over the past six years.
"Principle activities include civil engineering, planning, environmental safety, flight inspection, radar and aerodrome surveys.
"In the same period Hial has spent less than 0.5% of its budget on publicity. Publicity encompasses services including web hosting and the production of marketing and promotional material such as job advertisements and associated business development requirements, it does not include public relations.
"As a Government funded agency Hial must ensure best value at all times and is committed to ensuring full transparency in its operations with spending information available to view on our website."
He added: "There are no significant safety concerns from any recognised industry source regarding the safety of remote towers."
Centralising control tower operations to one single base in Inverness is a controversial £25million proposal.
The seven airports affected are Sumburgh, Dundee, Inverness, Wick John O'Groats, Kirkwall, Stornoway and Benbecula.
The FoI figures show more than £1m has been spent on "operational professional fees" in each of the last six years – which includes reports on flight checking, radar requirements, aerodrome surveys and environmental surveys.
An additional £90,000 was spent in the last financial year on publicity, reduced significantly from 2014/15 when it was almost £250,000.
Professional fees for reports into infrastructure was £158,000 for the last year, while non-operational professional fees amounted to £318,000.
 Air traffic controllers start work-to-rule ahead of planned strike
Air traffic controllers across the Highlands and Islands fighting for a pay rise of 10% began work-to-rule action yesterday – ahead of a planned 24-hour strike later this month.
Airport bosses insisted the stance by Air Traffic Control Officers (ATCO) across seven of their 11 airports could affect delayed flights.
A spokesman for Highlands and Islands Airports Ltd (Hial) said: "During the work to rule, ATCOs will work to their normal rosters.
"These rosters are designed to accommodate all scheduled flights in and out of our airports during airport opening times.
"During normal operations, airports within the Hial group will routinely work overtime and extend rosters to accommodate scheduled flights that are delayed.
"There will be potential disruption for any scheduled aircraft that is delayed beyond airport opening times. During the period of action, passengers should check with their airlines for updates."
He added: "For medical emergencies outside of airport opening times, airports within the Hial group operate well-established local on-call medical emergency processes and this will continue."
David Avery, Prospect negotiations officer, said: "Hial has been underpaying its controllers compared to the market for more than a decade.
"This is causing significant recruitment and retention issues and if we don't address it, the disruption we are already seeing at some airports due to staff shortages will get worse. The only way to address the problem is through an increase in pay and that does have a cost associated with it.
"We have always been clear that we are willing to negotiate a long term solution which spreads any cost over time.
"We have been negotiating with Hial over this dispute for more than a year. Following the industrial action notice there have been three further meetings and a fourth is planned with ACAS in April.
"We call on Scottish Ministers to free Hial's hand and allow it to come to the negotiations at ACAS with the full freedom to negotiate a deal which will resolve the dispute and avert the planned action."
Strike action is proposed to take place on April 26 at Inverness, Benbecula, Kirkwall, Stornoway, Sumburgh, Wick and Dundee.
Highlands and Islands MSP Edward Mountain said families and businesses who rely on air travel are at real risk of experiencing major disruptions for a long period.
Industry sources told the Press and Journal that the deal sought by ATCOs and the union Prospect would cost taxpayers up to £500,000 a year.