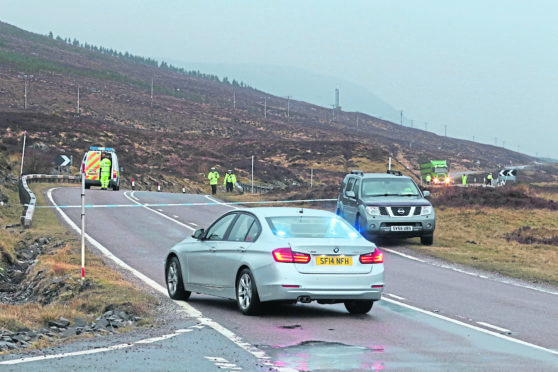 A man has been left in a life-threatening condition after the vehicle he was travelling in yesterday evening left the road and ended up in a nearby stream.
The incident occurred on the busy A835 road, near Loch Glascarnoch with emergency services rushing to the scene to provide assistance.
Initial reports of the crash were received shortly after 5pm with the white Citroen Berlingo van the only vehicle involved.
A road closure was put in place to allow emergency services to attend the scene, with the man subsequently transported to Raigmore Hospital in Inverness, via road ambulance and acccompanied by a police escort.
UPDATE:
Witness appeal after man seriously injured in one-vehicle Highland crash
The A835 is a popular route for both commuters and visitors and runs part of the way of the North Coast 500 route before motorists divert north of Garve onto the A832.
The incident occurred around 10 miles north of Garve with police, ambulance and fire personnel in attendance.
A police spokesman said: "A white Citroen Berlingo van came off the road and landed in a burn near to the roadside.
"The male occupant of the vehicle has been transported to Raigmore Hospital by road ambulance under police escort.
"The prognosis of his injuries are that they are life-threatening."
An air ambulance attended the scene with the road closed for a lengthy period to allow emergency services to conduct an investigation into the cause of the accident.
A fire service spokeswoman said: "Two pumps from Ullapool were sent to the scene after we received a call at 5.47pm.
"One casualty was involved and they have now been placed into the care of the Scottish Ambulance Service.
"No assistance was required from us, therefore, no equipment was in use and our crews left the scene at 6.25pm."
Councillor Ian Cockburn said last night: "I am always saddened to hear of incidents like this on our roads.
"Hopefully, it does not turn out to be critical and the person involved will be okay and will make a speedy recovery.
"The response from the emergency services has been fantastic to get there so quickly and, really, we are just hoping for a good outcome."