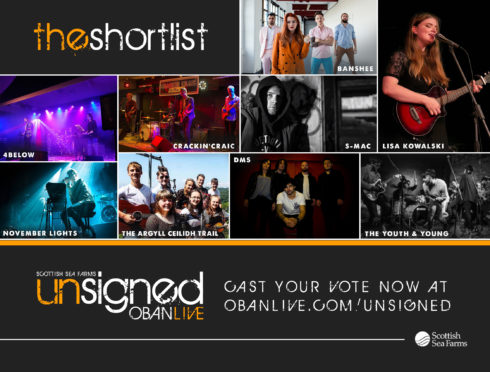 Argyll's largest outdoor music concert has announced the shortlisted Scottish acts fighting for a place at this year's Oban Live 2019.
Musicians from across the country have entered the Scottish Sea Farms unsigned Oban Live competition, offering them a covenant spot at the rural stadium gig when the festival kicks off in June.
Two slots at the festival are up for grabs with one being given to an Oban based act whilst the other is presented to someone from the rest of Scotland.
Representing the local category is rapper S-Mac, The Argyll Ceilidh Trail, Crackin' Craic and alternative rock artist 4Below.
Meanwhile, November Lights from Monifieth, Lisa Kowalski from Paisley, The Youth and Young from Fife, Banshee from Renfrew and DMS from Edinburgh are all competing to win the final place.
Daniel Gillespie of Skerryvore and Managing Director for Oban Live said: "Congratulations to all those who made it to their category shortlist. It was a tough job for our panel as the standard of musicianship from the applicants was very high both locally and nationwide.  Thanks to everyone who entered and we wish all finalists the very best of luck. Can't wait to welcome the winners to Oban Live this year."
The winning acts will join a show stopping line up of international Celtic, rock and folk acts including Skerryvore, We Banjo 3, Red Hot Chilli Pipers, Lucy Spraggan when festivities kick off on June 7 and 8th.
Members of the public can now cast their votes for their winning acts from 8pm on Monday April 11 before lines close at 12 pm on Monday, April 22.
Commenting on the shortlist, Scottish Sea Farms' Heart of the Community Coordinator Georgie Mackenzie added: "Securing a stage slot at Oban Live, which draws an audience of thousands, is a huge break for up-and-coming artists. We're genuinely thrilled to be playing our part in supporting both local and Scottish talent, something we put a lot into with regards to our own teams, and we'll be watching with interest to see which two shortlisted acts go on to win the public vote."