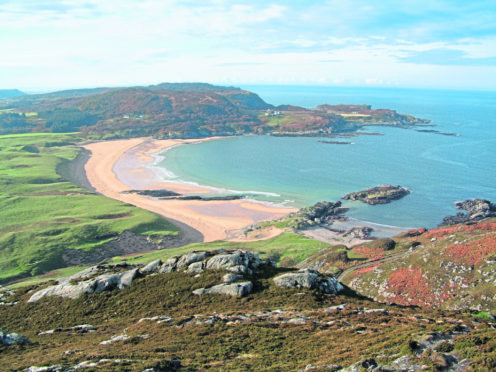 Residents of an Inner Hebridean island were left without power for the second day after a subsea cable fault sparked a major safety operation.
Coastguards have been assisting islanders on Colonsay after a power cut struck at 3am on Wednesday.
They have been left without power or means of communicating with the mainland, said the coastguard.
The Colonsay Coastguard Rescue Team has been providing a communications platform to the mainland via the VHF radio.
Additional coastguard rescue officers from other teams have also been brought to the island by the Islay RNLI lifeboat.
They have been supporting the island's doctor and the 177 residents by carrying out local welfare checks.
"Scottish and Southern Electricity Networks, the energy provider, have a team of engineers on the island that have identified the fault. Mobile generators are being transported to the island to support to the residents until repairs can be made," said a spokeswoman for the Maritime Coastguard Agency.
Adrian Kay, Senior Coastal Operations Officer, said:"The community has really come together to support each other, our teams have been out all night, making sure that the islands residents are safe and well.
"They have been able to ensure that communications has been kept with the mainland and continued to assist the local council, NHS and partner emergency services in the response."
SSEN said that due to yesterday's weather conditions, all local ferry services were cancelled which has hampered its efforts to restore supplies.
"A mobile generation set to restore supplies has been on standby since yesterday morning, which due to its weight and size, needs to be transported by lorry. The next scheduled ferry is not due to leave Oban until 4.30pm today and SSEN remains in close contact with the ferry operator, CalMac, to explore all options to try and get its teams to the island as soon as is practically possible," said the company.
"Yesterday evening, SSEN mobilised a helicopter to transport a team of engineers to Colonsay to carry out further investigations and attempt to restore supplies.
"As the fault has been identified on the subsea cable that supplies Colonsay via Islay, mobile generation is required to restore supplies until the cause of the subsea cable fault has been identified and any subsequent repairs have been completed. SSEN is therefore in the process of applying to Marine Scotland for an emergency licence to carry out the necessary cable inspections and repairs so the network can be restored to normal operations at the earliest opportunity.
"SSEN continues to work with local resilience partners, offering support to its customers where possible, including free food and drink from the Pantry in Scalasaig.
"SSEN would like to assure its customers and stakeholders that it is doing everything it can to restore power as soon as possible."