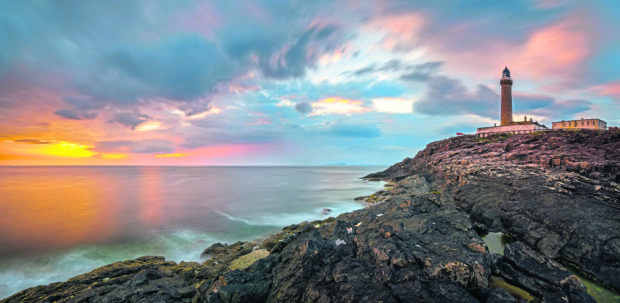 A job of a lifetime in a remote location is up for grabs at the most westerly point on the British mainland – with whale spotting as one of the main tasks for two very lucky candidates.
The Hebridean Whale and Dolphin Trust is advertising the posts of full-time volunteers, based at the lighthouse on the Ardnamurchan peninsula.
The trust wants two candidates who are drivers with experience in collecting data to live at the Ardnamurchan Lighthouse – 20 minutes from the nearest village of Kilchoan, and three hours from the nearest town – between June 24 and September 6.
One of the main duties for the post holder will be to collect land-based data on the numbers of whales and dolphins in the area.
The job is voluntary, but food, accommodation and expenses will be met by the Hebridean Whale and Dolphin Trust for the length of the project.
A spokeswoman said: "The Hebridean Whale and Dolphin Trust has been leading the way for the conservation of cetaceans in the Hebrides for 25 years.
"As the trusted voice and primary source of information in the region, HWDT research has critically advanced the understanding of Scotland's whales, dolphins and porpoises whilst working directly with communities to encourage the stewardship of our rich seas.
"As a volunteer at Hebridean Whale Trail: Ardnamurchan there will be the opportunity to be a part of a project which will connect communities and visitors with the amazing Hebridean marine environment.
"The Ardnamurchan Lighthouse Trust operate a busy visitor centre and cafe, offering the chance to learn more about Scottish lighthouses, and the flora and fauna of the Ardnamurchan peninsula.
"The Ardnamurchan volunteer will be responsible for the delivery of the Hebridean Whale Trail: Ardnamurchan programme, working with members of the HWDT team alongside Ardnamurchan Lighthouse staff.
"The right person will inspire and inform visitors and the local community, champion participation in citizen science, and carry out fieldwork to monitor marine life.
"Living and working at a lighthouse in a remote but beautiful part of Scotland makes this is a fantastic opportunity for a once in a lifetime experience, while playing an active in marine conservation."
The job description includes providing expert wildlife guiding and informal interpretation to visitors about Hebridean marine wildlife and the environment and heritage.
Volunteers will carry out dedicated land-based cetacean data collections and encourage visitors to participate in whale watching and biological recording activities, while working one day a week in the lighthouse cafe.
The closing date for applications is April 12.