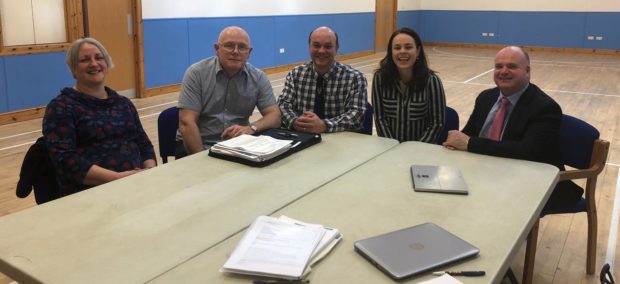 The newly-appointed chief executive of NHS Highland yesterday visited communities in Skye and Lochalsh to hear first hand their concerns over health provision in the area.
Iain Stewart, who took up the post at the end of January, visited the communities in Glenelg, Portree and Raasay yesterday where healthcare provision concerns have been extensively raised by locals, with updates of the implementation of the Ritchie report findings discussed.
Mr Stewart said: "It was a very productive day on Skye meeting with many key stakeholders such as staff, patients and carers.
"I look forward to working with them to progress the recommendations included in the Sir Lewis Ritchie report and the work involved in the service redesign in Skye, Lochalsh and South West Ross to improve health and social care services across the area.
"One of my key priorities as chief executive is to get out and meet people across our area to listen to what they have to say and ensure they are at the centre of our plans to develop the services we provide."
The visit was facilitated by local MSP Kate Forbes.
Ms Forbes said: "I think the fact that Iain Stewart is there sitting round the table with members of the community shows how far we've come in a short of time.
"I'm heartened that both the new chair and the new chief executive understand rural communities and have publicly stated their intention to support those communities.
"These conversations will hopefully be the first of many, and allow local people to share their concerns, aspirations and demands for local healthcare in those respective areas."
On Raasay, 24-hour nursing cover has been pledged after a hard-fought four-year campaign by locals after feeling the health service has neglected their needs for too long.
Campaigners in Glenelg are fighting tooth and nail to have a dedicated general practice based in the village, incorporating a second GP and enhancing coverage across the community.
Councillor Ronald MacDonald, who attended Portree Hospital yesterday where Mr Stewart arrived 30minutes late, was pleased to welcome the NHS chief.
He said: "There has been some good progress since the Ritchie report but the momentum has not been as great as it had initially been expected.
"Mr Stewart made clear that there needs to be a longer-term strategy to ensure a sustainable future for health and social care in Portree, north Skye and Skye in general, and that was well received and something I'm sure the community will find as a major positive."