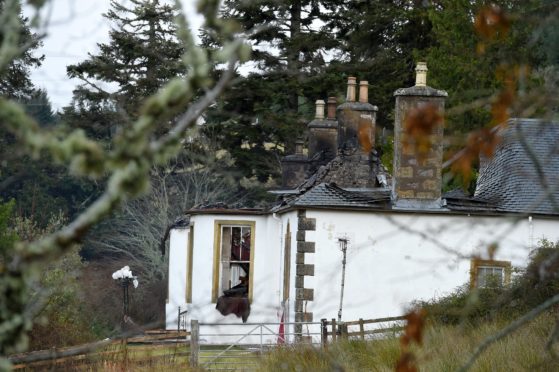 The ruined remains of the former home of occultist Aleister Crowley has been put up for sale in an effort to restore it to its former stature.
Boleskine House, near Foyers,  on the south-east shores of Loch Ness, was ravaged by a devastating fire four years ago, destroying around 60% of the listed building.
Cause of blaze which destroyed Aleister Crowley's Inverness mansion officially 'unknown'
Seven fire crews rushed to the scene, 18 miles west of Inverness, on December 23, 2015, but were unable to save the property from being destroyed.
The 18th century property was owned by the English writer and self-proclaimed "wickedest Man in the World" between 1899 and 1933 where it's alleged he indulged in black magic rituals involving sex, drugs and the occult.
The 22-acre property has now gone on the market for over £500,000 in the hope of transforming it into an "outstanding property".
Property agent Galbraith said the residing walls of the mansion outline the "former splendour" the property once presented.
A spokesman said: "Boleskine House was predominantly destroyed by fire in 2015 and today the main walls with echoes of its former splendour are all that remains.
"The opportunity now exists to restore the house and grounds to create an outstanding property subject to obtaining the necessary consents."
Four separate lots across the estate is being sold as part of the sale.
It includes the grade-B listed coach house and gate lodge, alongside the property's grazing land.
The coach house, which lies to the east of the main property, may offer the potential for conversion into a residential or commercial property.
Meanwhile, the gate lodge which lies at the main gate to the property is in need of a full renovation, upgrading the properties sitting room, bedroom, shower room and kitchenette.
The property in recent times has become a tourist attraction for many interested in its history.
The Georgian House – which is said to remain haunted or cursed – was later bought by Led Zeppelin musician Jimmy Paige in 1970 before he sold it in 1992.
It's understood a Dutch family was using the property as a holiday home prior to the blaze.