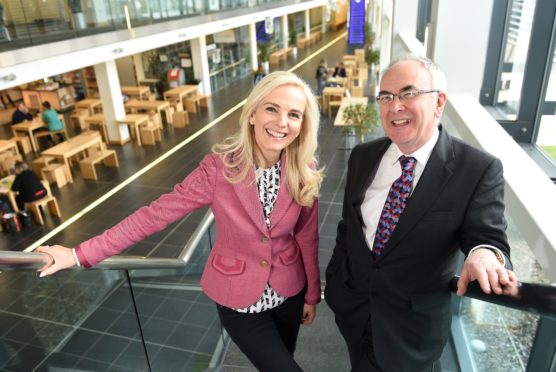 The new chairman of crisis-hit NHS Highland has pledged to "internally mobilise" its "army" of staff to help tackle the "daunting task" of reshaping the organisation.
Professor Boyd Robertson, who took over the role earlier this year, was speaking to a public audience, which included health secretary Jeane Freeman and NHS Scotland chief executive Malcolm Wright, who were in Inverness for the annual review of the authority.
The chairman admitted that NHS Highland "has not been without its issues" in the last year, which has seen a QC-led inquiry launched to probe whistleblowing bullying allegations and a £15million financial black-hole.
He described how there was now a new leadership, including new chief executive Iain Stewart, to help turn around the fortunes of NHS Highland.
He added: "Iain and I are committed to being a visible leadership. It is important to go out and meet the people who deliver the service.
"We are looking forward to the Sturrock review into bullying. We have a zero tolerance to bullying and will work with the recommendations of the report [when it is published] to make the changes that are necessary.
"We want staff to feel proud to work at NHS Highland and want them to feel they want to work here."
The chairman said the chief executive was already reshaping the management structure, particularly to combat the financial situation, adding there was a focus to "internally mobilise the army" of its 10,500 staff to tackle the problems.
He said: "It is clear that there is a lot of excellent work being done by our people in NHS Highland.
"I am especially impressed by the many service redesign initiatives like 'NHS Near Me', which makes it easier for patients living in remote and rural parts of the Highlands to access appointments.
"There have also been some welcome improvements in the way we are dealing with waiting times and, although there is more to be done, the trend is encouraging.
The public session yesterday heard various concerns being expressed, including about mental health, consultation on the redesign of care services in Caithness, the high number of outpatients travelling for appointments at Raigmore Hospital in Inverness, waiting times, and the detection rate of cancer.
Chief executive Iain Stewart said: "This is a time of change for NHS Highland.
"As we celebrate the very many examples of excellent health care delivered by our board over the last year, we also need to recognise that we are facing some considerable challenges in balancing the needs of such a large and diverse area.
"We intend to focus upon delivering first-class care to all of our people in the Highlands and Argyll and Bute and, at the same time, balancing our books and making sure that everyone providing that care feels valued, respected and listened to."
Cabinet Secretary Jeane Freeman said: "There is a new senior management team in place in Highland and this was an opportunity for me to hear about their plans to take the board forward and meet the challenges NHS Highland faces."