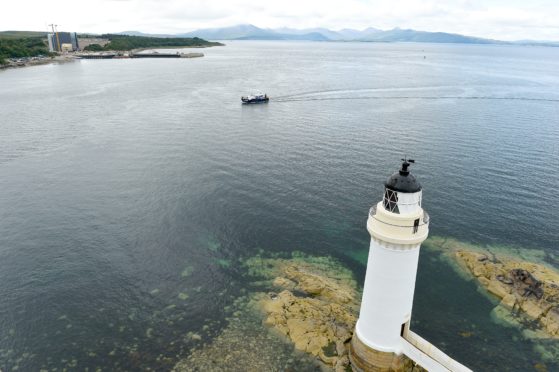 Bosses at Mowi, the world's largest salmon farming company, have revealed they would "prefer" to relocate work from Lochaber to the company's new base on Skye – a move that would affect 150 jobs.
The plans to create a one-stop facility at Kyleakin have been favoured by bosses of the fish farm giant.
But any move to put all the jobs under one roof would affect the future of its harvest station in Mallaig and its processing plant at Blar Mhor in Fort William.
Ben Hadfield, chief operating officer of Mowi, said: "We are at the very earliest stage of this process but we are being transparent that our preference would be to build a brand new state-of-the-art fish processing facility at our property at Kyleakin on Skye.
"There are many milestones to pass before this can happen, not least a specific feasibility study.
"All staff are informed about the proposal and, importantly, of the solutions we will be looking into to ensure our highly-skilled staff are retained regardless of their location."
The plans to potentially relocate to Kyleakin come as Mowi gets set to open its brand new £93million state-of-the-art fish feed plant on Skye after trial operations went live yesterday. By housing all operations at Kyleakin, the fish farm company would be able to harvest, process and fillet fish in one location.
Other options being explored by Mowi include expanding their current Blar Mhor facility or relocating elsewhere in Fort William where a bigger plant can be built, increasing capacity at their Donegal base in Ireland and Rosyth, or introducing ocean processing onboard Mowi's vessels.
Should plans progress ahead, Mowi is hoping to have the new plant fully operational by 2024.
Elected representatives in both communities have pressed for extensive consultation to take place.
Skye councillor John Finlayson said: "Should it happen and Mowi decide that it is a viable option then it would then create opportunities on Skye, but there needs to be extensive consultations carried out before a decision is made.
"There has always been a suspicion in Skye that this would happen.
"Whatever may happen I am just hopeful for a positive outcome for the Highlands."
Councillor Ben Thompson said: "Any movement of jobs, potentially out of the area, would be of great concern.
"The salmon industry is really important to the Highlands and it is a growing industry. Some aspects of it may be controversial, but we would hope the benefits are spread right across the region.
"It is still early days but an important part is to listen to those it affects."
Local MP Ian Blackford has pressed for a meeting with Mowi officials to establish the full details, declaring his intention to ensure the voices of the workforce are heard.
He said: "Investment and job creation within Ross, Skye and Lochaber is vital for the continued growth of the area and these plans may present real opportunities, however, it's also important that the current workforce are protected throughout."