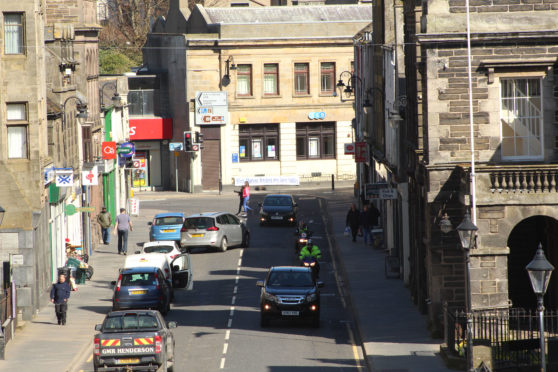 The impact of impending new parking restrictions in Wick's Bridge Street will be the focus of a meeting called by local Highland Councillors as part of their drive to help breathe new life into the centre of the town.
Traders are being invited to the follow-up forum which will discuss the introduction of double yellow lines to counter the long-time nuisance of rogue parking.
The issue has come to the fore in the wake of Kevin Milkins saying the new regime will force him to close Birons ironmongers in Bridge Street.
Highland business faces closure due to plans for double yellow lines
He has started a closing down sale as he claims he would lose a lot of trade were customers not able to park outside his shop to pick up goods they have bought.
The four Wick and East Caithness councillors have defended how the local authority has handled the process.
In a joint statement, they said they acted after receiving many representations about the problems caused by indiscriminate parking on the street.
They said that the issue was raised last month at the first meeting held to discuss the regeneration plans.
"Some comments suggested that double yellow lines would impact on businesses, but others felt that the current problem with on-street parking inhibits off-loading, on-loading and accessibility for disabled persons.
"We also had comments that the introduction of the traffic regulations were a good start. It's important to note that when the double yellow lines are implemented, there will still be a 10-minute wait time to allow for disabled access, off-loading and on-loading.
"People will still be able to make a quick purchase then move along. The result should be much freer and safer movement through Bridge Street and beyond.
The councillors expressed regret that anyone would opt to stop trading because of the upcoming "That's certainly not what we want to see," their statement read.
"We would really like to work together to address any effects on businesses by the introduction of the traffic regulations whilst reducing the real risk to pedestrians and drivers, making our streets a safer environment for them."
The follow-up meet in the Norseman Hotel on May 28 will also tackle the thorny issue of business rates.