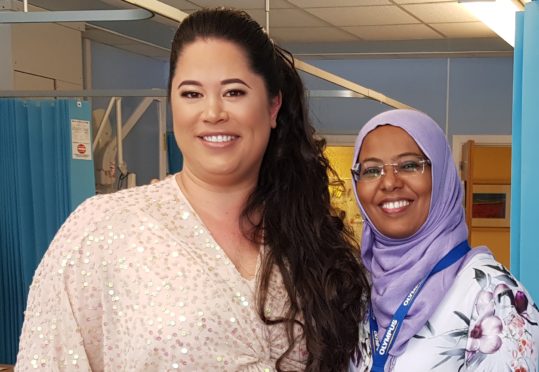 Staff at a north hospital made their own vow yesterday to allow a bride-to-be to attend her big day, after an unplanned admission put her wedding preparations into jeopardy.
Erin Peak, 34, who is originally from Australia but now resides in Tain, is currently in the 31st week of her pregnancy and visited Raigmore Hospital in Inverness to have a routine growth scan carried out.
But during her visit, medics found that her blood pressure was very high and admitted the bride-to-be for observation – just two days before her planned wedding to fiancé Willie Duffus.
The admission struck fear into Miss Peak, who at one point contemplated tying the knot inside the grounds of the north's busiest hospital.
She said: "At one point I did think the registrar would have to come here to the hospital but the staff here have been amazing and have done everything they can to ensure I will be getting married today.
"I've been given a day pass so I can attend the ceremony as long as I'm back by 8pm.
"They've even done my hair, my makeup, provided me with flowers and even arranged for some 'faux bubbly'.
"It's not your standard wedding day story but I'm so grateful to them for all their help and support today."
Staff from across the maternity ward held no objection to assisting the bride-to-be by providing assistance to ensure she was made up in an appropriate manner for the ceremony, with no hospital gowns in sight.
Carole Murphy, midwife and labour suite coordinator, said: "We have borrowed hair straighteners from one of our consultants, made up a small bouquet of flowers for her and if there is anything else we can do we will be happy to help.
"I've not had a shift like this ever so it's been quite exciting. We all wish Erin and Willie the very best for their wedding today."