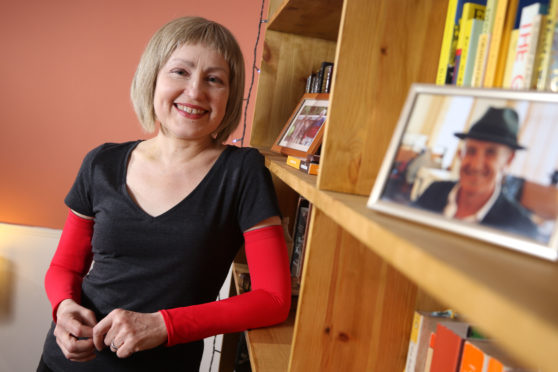 A mum who captured the hearts of Highlanders with her lust for life has passed away from a rare form of non-treatable cancer, her family has said.
Roz Paterson, 52, from Beauly, who managed to raise £325,000 in donations in a few weeks for treatment in America – and then pledged to refund it when NHS Highland paid for the treatment,  died at Raigmore Hospital on Monday.
Mum-of two Mrs Paterson was diagnosed with Large Diffuse B-Cell Lymphoma – an aggressive form of blood cancer – last summer. Medics initially tried four types of chemotherapy, but nothing worked, leaving her with the last hope of a tailored treatment called Car-T Cell Therapy.
Mrs Paterson was initially accepted onto an NHS trial in London in March – but was told she might not live long enough to see it through.
With only weeks to live, the community – and many further afield – rallied round with sponsored car washes, online fundraising, raising a spectacular £325,000 in a matter of weeks.
That's when NHS Scotland announced it would fund the life-saving treatment at King's College Hospital in London, with Mrs Paterson attending for her first appointment on February 1.
With her wry scene of humour, Mrs Paterson, at the time said:  "Thanks to the haematology team at Raigmore, led by Dr Peter Forsyth, and NHS Highland, and a little extra shove from Dr Annie Latif in Glasgow, it looks like Boston's off. Hello England."
Originally from Glasgow, Mrs Paterson was a journalist who wrote for the Daily Record and latterly The Scottish Socialist Voice she also kept an online diary about her cancer.
Her blog, "A Life More Or Less Ordinary," final post is titled "We called it The Rollercoaster". It announced Mrs Paterson's death, saying: "Monday morning, six thirty. Roz has died."
Her partner of 27-years, Malcolm McDonald, continued: "Roz's blog has touched a lot of people. Elegant and frank, threaded through with her signature self-effacing humour, Roz's posts eloquently told the story of one woman's battle with cancer.
"And I think, you know, you read her blog and felt like you had got to know her. You had got to really like the way she told her story. You thought she was this wickedly funny, insightful, clever, strong, kind, inspirational, brave woman. You could see the beauty in her, the steel, the fire.
"Well, you know what? You were right."