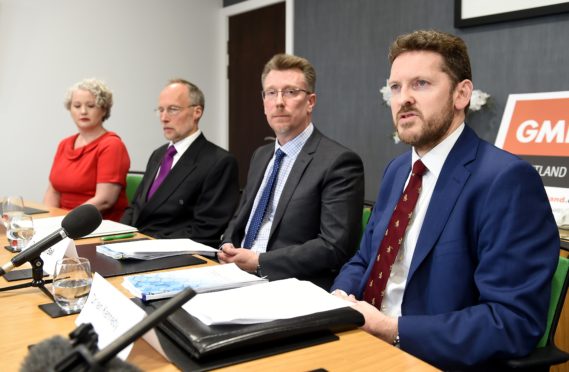 The report into the NHS bullying scandal exposes close management-staff friendships and family ties within the organisation as probable causes for many allegations being ignored.
Pressure placed on employees to perform and meet targets was also highlighted as a potential reason for staff being harassed and intimated.
John Sturrock QC, a specialist mediation lawyer, carried out the review which was commissioned by the Scottish Government following claims by four whistleblowing clinicians last year.
His probe into a "toxic bullying culture" at the health authority revealed hundreds of employees had suffered inappropriate behaviour – with evidence of bullied staff contemplating suicide and being driven to depression, alcoholism and drug abuse.
He also questioned the handling by senior management and board members into historic claims of bullying.
Damning report reveals bullying culture left NHS workers 'feeling suicidal'
Speaking of a "lack of diversity", Mr Sturrock, in his 176-page report, said: "I am told that many managers are friendly with colleagues (often many they manage) outside work and that this can get in the way of holding colleagues to account for their behaviour.
"Training about how to manage multiple roles and relationships (and confidentiality) appears lacking.
"There are also criticisms of conflicts arising when family members are employed in sensitive positions."
He quotes one witness stating: "NHS Highland is a small environment with many staff being related to senior staff, which resulted in other staff being afraid of repercussions if they spoke about inappropriate behaviour."
The QC, referring to pressure to perform, added: "Over the past ten years in times of austerity, with budget restrictions and reduced spending, financial constraints can often lead to people feeling overwhelmed at work with too much to do and not enough time or resource.
"This is likely to cause stress and may lead to behaviour which is inappropriate. I have heard a number of examples of this, with senior and other employees at breaking point."
Regarding the performance of senior managers and board members to complaints of bullying in the past, he said they were "not as well handled as they could have been".
NHS Highland bullying scandal: Health chief warns staff inquiry findings make for 'difficult' reading
Highlands and Islands MSP and shadow health secretary David Stewart said: "There is no doubt that austerity is harming our public services and Sturrock shines a light on what the result can be – staff being bullied and harassed due to financial constraints being placed on them.
"While nothing excuses bullying in the work place, this factor has to be seriously looked into."
An NHS Highland spokesman said that they did not wish to further comment until they could "fully digest" the report's findings.
Former board chairman declines to give comment
The former chairman of beleaguered NHS Highland yesterday declined to respond to the highly critical findings of the John Sturrock review into bullying allegations.
The QC, appointed last year following claims there was a "culture of harassment and bullying" over the last decade, dedicated a whole chapter in his 176-page report to "The Board and Governance".
The period in question was when David Alston was at the helm as chairman of the health authority.
Mr Sturrock published evidence about the handling by senior management, including former chief executive Elaine Mead, and high level board members into historic claims of bullying.
He said: "Concerns were expressed by a number of respondents about the chair's [Alston's] ability to hold the chief executive fully to account.
"This seems especially relevant to events in and around 2017. While hindsight is a great thing, the concerns raised then were, I sense, not as well handled by the then chair as they could have been.
"Decisive action at that stage to address concerns, amid board resignations … might have made a big different."
It was another year before the four whistleblowers decided to come forward with their claims.
The QC added: "The question arises whether his [Alston's] relationship with the chief executive was sufficiently robust and frank.
"New leadership should look seriously at all of these matters and the learning arising from what has occurred."
A former non-executive director told the inquiry: "Board operation prevented the CEO [chief executive officer] from being held to account in a forum where in-depth examination of issues could be undertaken [of] institutionalised intimidation."
Mr Alston, who resigned earlier this year prior to the publication of the report, declined to make a comment.
The chairman before him, Gary Coutts, said his tenure as chairman ended three years ago, before the allegations came to light.
Attempts to locate Elaine Mead for comment were unsuccessful.
'Other health boards should take note'
While the review has sparked calls for victims to be financially compensated it also resulted in the Scottish Government issuing a warning to health boards across Scotland to take lessons from the findings.
Health secretary Jeane Freeman made a statement in the Scottish Parliament following publication of the Sturrock report on Thursday, and later issued a 19-page response.
She admitted: "The Review has identified a number of significant cultural issues that have potentially contributed to a variety of situations and circumstances in which there has been behaviour that might reasonably be described as bullying, or at the very least, inappropriate.
"It is important now that we take the opportunity to reflect on these findings and that we engage constructively in dialogue to support implementation of the recommendations."
She added: "The review only examined matters in NHS Highland. I want to acknowledge that there is important learning and reflection here for other NHS Scotland health boards and for the Scottish Government."
The recommendations include a more "collaborative" set up in leadership to build a "new culture".
Sturrock also calls for a faster system to be implemented to address serious concerns when raised.
The health secretary is to convene a ministerially-led short-life working group to take forward measures to support "open and honest workplace cultures".
She added the government was taking forward new whistleblowing legislation through parliament.