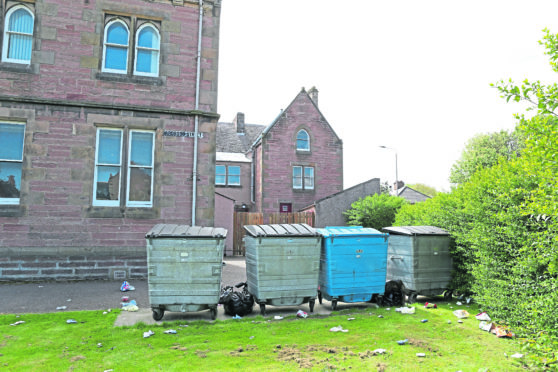 Highland Council is to report itself to the Information Commissioner after confidential documents about more than two dozen children were found by a member of the public.
An "urgent" investigation has been launched by Scotland's largest local authority after the eight-page document was discovered among general waste outside its Inverness headquarters.
The document contains the full names, dates of birth and case numbers of 28 children – one as young as eight months old.
In one excerpt, an adoption case is discussed in some detail.
A council spokeswoman said: "The council is investigating this as a matter of urgency. We have been in touch with the Information Commissioner's Office and will be reporting the breach to them in due course.
"We do have a policy on the destruction of confidential waste which is covered by our Information Security & Assurance policy."
The confidential panel minutes were first discovered by a local resident whilst investigating concerns of fly-tipping in the area.
The papers, including sticky notes with details of queries to the council, were found on the ground and in ripped bin bags at the top of an open bin.
MSP Rhoda Grant condemned the situation as "inexcusable".
She said: "Clearly this is a serious breach of confidentiality. The fact that these sensitive documents could have been accessed by the public is to, me, shocking and inexcusable. It brings into question, what training social work staff has had regarding confidentiality and GDPR."
Council policy states that paper containing personal information must be "disposed of using the council's confidential waste paper disposal bins or other approved method".
Depute Provost of Inverness Bet McAllister said she had never seen a breach of this magnitude in her 12 years with the council.
She said: "I'm totally shocked. I am sitting here stunned; I can't believe that. That's really disappointing but I cannot understand how it's happened.
"Obviously I am going to have to investigate this because that should never have happened and I will make damn sure that it never happens in the future. In the 12 years I have been on the council I have never ever heard of anything like that."
Meanwhile, Caithness councillor Raymond Bremner was preparing to attend a meeting last night to discuss its underlying implications.
He added: "This raises multiple questions about the policies and procedures that the Highland Council has in place in respect of data protection.
"How can we be so inconsiderate in respect of the sensitivity and nature of the material that has been found? I would like to sincerely thank the person who has reported this matter and I will be raising it tonight with the Chief Executive Officer at a meeting I will be attending.
"We need to get to the bottom of this and ensure the persons responsible are held to account so that we never have an incident like this again."
Senior councillor Allan Henderson said that the "system had gone wrong somewhere" before apologising to "anybody for any concern or hurt it has caused".
An ICO spokeswoman said: "All organisations have the obligation to keep personal data secure, whether in electronic or paper format, particularly when sensitive data is involved. If anyone has concerns about how their data has been handled, they can report these concerns to the ICO and we can look into the details."