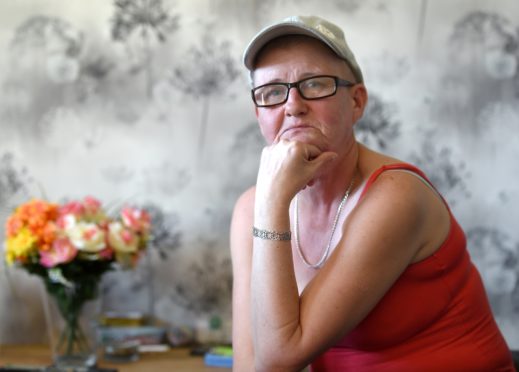 A Ross-shire woman has slammed the Jeremy Kyle Show for their "lies" after footage of her on the show was broadcast on a national news programme – despite her asking for it to be deleted.
Lesley Ferguson, from Conon Bridge, was left shocked after footage from one of her three appearances aired on the national news broadcast by ITV on Wednesday evening.
Ms Ferguson had requested that the footage be withdrawn following her appearances after it caused problems for her family.
She claims bosses at the television show confirmed that the footage would not be rebroadcast  -so was amazed to see herself appear on the evening news.
The 48-year-old said: "I was watching the news on ITV last night and I couldn't believe it. The anger hit me and I just thought you scumbags, you lied to me.
"They told me it had been red taped and would never come up on TV again."
The Conon Bridge woman, who first appeared on the show in late 2017, has also hit out at the show for their lack of consideration for guests' welfare, claiming she and her family members who appeared on the show were not screened prior to filming.
---
>> Keep up to date with the latest news with The P&J newsletter
---
She added: "There is talk about the aftercare of the show and how guests are treated beforehand and it is complete lies.
"They are claiming everyone who sees Jeremy gets a mental health assessment carried out on them beforehand. This is sheer and utter lies.
"I have recently been diagnosed with borderline personality disorder and anxiety, which I have had for most of my life, and no assessment was carried out on me prior to my appearance on the show."
Ms Ferguson has also criticised the show for the delay in delivering counselling, claiming months have since passed with no action being implemented.
She said: "On all three of my appearances, he slaughtered me to shreds, but we were told we would be offered counselling.
"He told us he was going to keep us together for counselling but months have gone by and I am still waiting."
Bosses at ITV, who produce the show, have determined "now is the right time" to end production "given the gravity of recent events" after the death of 63-year-old participant Steve Dymond.
An ITV News spokeswoman said: "The footage in question was downloaded from the official Jeremy Kyle Show YouTube channel yesterday morning whilst compiling material for that evening's bulletin.
"The report has now been removed from our platforms."
The Jeremy Kyle Show was contacted for comment.