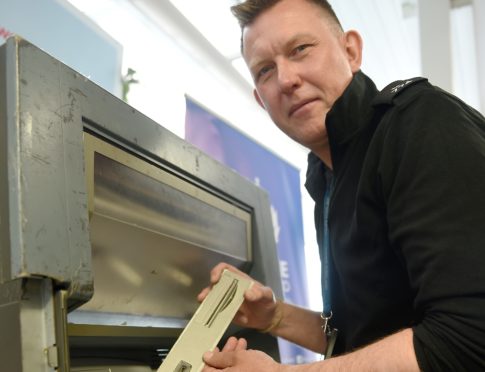 Police officers are bringing their own cash machine to Inverness this week to show the public how to spot skimming devices.
The force's Preventions and Interventions unit are carrying out practical demonstrations with their mock ATM , outlining the "tricks of the trade" people should be looking out for.
Skimming devices allow criminals to read card details without the card holder's knowledge.
During a demonstration at Inverness Retail Park yesterday, Constable Keri Jones said techniques used by scammers are becoming "more advanced".
He said: "People should look for anything suspicious on the machines and always remember when they are putting their number in to cover the keyboard in case there are any cameras on the machine.
"We have had a few incidents in the Highlands of this type of fraud last year in Aviemore, Inverness, Dingwall and Caithness – so it does happen.
"Again it is happening all over the country, all over the world so it's about raising awareness not only if you use a cash machine in this country or in the Highlands but on holiday."
The mock demonstration is part of a month-long awareness campaign across the Highlands with events taking place in the Eastgate Centre, Tesco Inshes and Inverness College UHI over the coming days.
This will be followed by various events held at supermarkets across the north in Aviemore, Nairn, Wick, Thuro, Tain and Skye during the final week of May.
Constable Alan MacLennan spoke of how important it is people are aware of the signs and how they identify these devices.
He added: "We don't want to worry people unnecessarily about the use of cash machines but the public should be alert to this type of activity.
"Using an ATM is a routine act for many of us but that there are some criminals who will try to exploit any complacency in order to try and steal personal details.
"We will be demonstrating how to check for any unusual attachments and what to do if you find something out of place.
"If in doubt do not enter your card or enter your PIN number but instead report to the authorities."