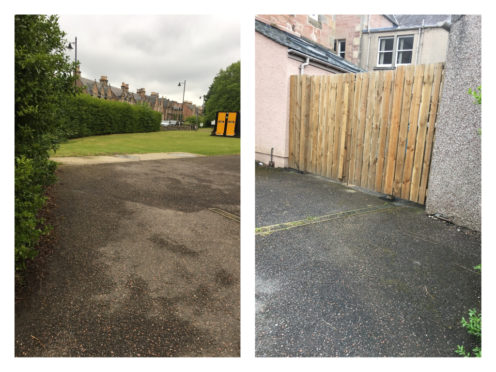 Highland Council has moved their bins to a secure area just days after confidential documents about more than two dozen children were found by a member of the public.
The eight-page document was first discovered among general waste outside the Inverness headquarters last Sunday, sparking an urgent investigation by Scotland's largest local authority.
In an effort to ensure a breach of this magnitude "isn't repeated" council officials have now secured the bins under lock and key.
Binned Highland Council social work papers spark major data breach probe
A council spokesman said: "The council takes any data breach very seriously. We've reviewed every aspect of this data breach with a view to ensuring that it isn't repeated.  Although personal data should not be disposed of in the general waste, moving the bins to a more secure area provides further assurance in the event of a similar mistake."
The move comes just days after confidential panel minutes – and sticky notes relating to queries put to the council – were first discovered by a local resident whilst investigating concerns of fly-tipping in the area.
---
Local and Proud: Follow our new Facebook page dedicated to the Highlands and Islands
---
The papers found on the ground and in ripped-open bin bags at the top of an open bin, contained the full names, dates of birth and case numbers of 28 children – one as young as eight months old.
The breach is now being assessed by the Information Commissioners Office after being reported by council officials last week.
Depute Provost of Inverness Bet McAllister outlined her support for the move saying: "I am delighted they have. They haven't actually mentioned it to me but that is what I had said to Councillor Margaret Davidson. That's fine they have done that but hopefully there don't be any more breaches as I am hoping any paperwork like that wouldn't go in that bin. That's not what it's for; they have to be done indoors, whatever they are going to do with it. I'm sure that won't happen again."
Meanwhile, senior councillor Allan Henderson added: "As it was a breach of data protection, it was left to be sorted out. I presume that if they are doing that they think that it's more than adequate and I take it that that material that was found won't be appearing in these bins because it shouldn't have been there.
"Some things to be quite honest are operational and I have to believe that that is the correct course of action. It wouldn't have been done lightly or without thinking the whole thing through, that's for sure."