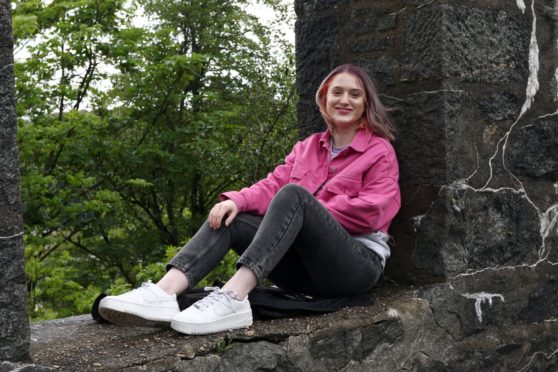 An up-and-coming star visited primary schools in Oban yesterday to share her love of music.
In a surprise visit to the west coast, 22 year-old Scots musician Be Charlotte announced from the town's iconic McCaig's Tower that she will play Oban Live music festival in two weeks.
The Dundee star, who signed to major record label Sony Music last year, is the last act to be added to an impressive line-up at Argyll's biggest outdoor live music festival.
— be charlotte (@iambecharlotte) May 23, 2019
She joins Skerryvore, Red Hot Chilli Pipers, Lucy Spraggan, We Banjo 3, Elephant Sessions and more at the popular west coast event on June 7 and 8.
Since starting to find her voice as a teenager with an acoustic guitar, Charlotte Brimner, performing as Be Charlotte, has been focused on finding inner strength and inspiring others to do the same, a message that was passed over to a number of Oban's primary school pupils today.
Excited pupils were treated to a surprise visit from the Scots star who performed an acoustic set and talked about her inspiring musical journey.
Youngsters were encouraged by Charlotte to believe in themselves, to pick up and learn an instrument and to get involved in music.
The event takes place at Mossfield Stadium, Oban. Tickets are available at www.obanlive.com.
---
Local and Proud: Follow our new Facebook page dedicated to the Highlands and Islands
---
Meanwhile, The Belladrum Festival's Hootenanny Potting Shed announced its line up of from talent from the USA and Europe.
Darren Piyzer and Pig Man, Cow Cow Boogie; Caledonia Cowboy Swing; Kinder Junction, will be joined on stage by Jes Wayne from Los Angeles, The Cowboy Way from New Mexico and Brigid Kalin from the USA.
The popular Moose Stage will as ever fill in between the bands including impromptu sets and introducing artists including Food and Music activist "diva" Sophie Bondea.
Rob Ellen, the Potting Shed music curator, said: "We thank  all the artists from all around the world as well as all around the Highlands who have again consented to play the stage, it has become a real family fold of friends, a meeting point in the Highlands for International independently minded musicians.
"The unique atmosphere of the Potting Shed stage has organically grown out of this fellowship of music from across the planet."