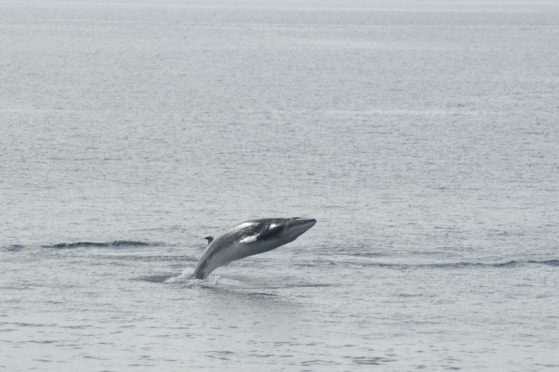 Whale watchers will soon be able to follow a special route through the Western Isles.
Costing nearly £200,000, the new Hebridean Whale Trail will launch next month with now more than 30 designated sites.
Nearly a quarter of the world's cetacean species have been found in Scotland's waters.
Now a trail for whale and dolphin spotters is to be launched at the end of June in a project led by the Hebridean Whale and Dolphin Trust.
Such is the cetacean richness north of the border that extra locations have been added since the initial 25 were earmarked.
The Mull-based charity said the trail would be the first of its kind in the UK and will stretch from Cape Wrath in Sutherland to the Clyde and even out to St Kilda, 41 miles off the main Outer Hebrides.
As well as sight-seeing opportunities, the aim is also to showcase the history of people's relationships with whales in the region – and other wildlife.
The trust hopes to promote Scotland as one of Europe's best destinations for spotting whales, dolphins and porpoises.
Karl Stevens, Hebridean Whale Trail manager, said: "People currently visit Scotland for the landscapes, wildlife and culture – but not necessarily to see cetaceans.
"With the Hebrides being one of the best places in Europe to see these spectacular animals, we want to add them to the mix – and our research shows that the potential is huge.
"People are often surprised that so many of the world's cetaceans are found in Scottish waters – and you don't have to travel thousands of miles to see whales and dolphins.
"I think sightings are increasing and we hope this trail will help people log even more through our Whale Track website."
He added: "We're keen to hear from local people, communities and businesses for their ideas and suggestions – to ensure the Hebridean Whale Trail embodies the spirit of the Hebrides, and places Scotland's land-based whale-watching opportunities on the international map."
The trail has been largely funded by the Big Lottery and has been two years in development. Information boards will be displayed at appropriate locations.
Bottlenose, risso's and common dolphins, harbour porpoises, minke whales, humpbacks and killer whales are all found in Hebridean seas.
A fin whale – the second largest creature on the planet – was spotted off Tiree last week.
Tiumpan Head on Lewis is also considered the best place in Europe to see cetaceans from land – and all year round.
The whale trail was one of the new attractions showcased at a conference earlier this year hosted by Outer Hebrides Tourism with almost 200 delegates from businesses and community groups attending.