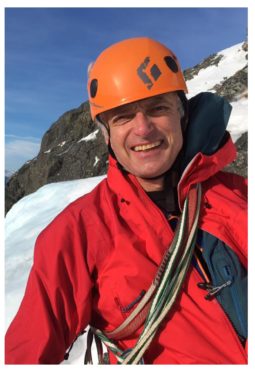 The family of a north mountaineer missing with seven other climbers he was leading in the Himalayas have expressed their "heartfelt gratitude" for the recovery operation.
They also thanked people for the "outpouring of love and support shown to those affected at this difficult time".
Martin Moran, from Strathcarron in Wester Ross, had been attempting India's second-highest peak.
In a statement, Moran Mountain – the company founded by Mr Moran and his wife Joy – said it also wanted to make clear that the expedition had all the necessary permissions.
Attempts to retrieve the bodies of five climbers from the Himalayas have been postponed by Indian officials.
A helicopter carrying the rescue team turned back after three failed attempts to drop them on the peak.
Four Britons, two Americans, an Australian and an Indian made up the missing climbers.
The bodies were spotted by an Indian rescue mission on Monday.
Officials have said that the recovery operation was "very risky" because of harsh weather, adding success would be a "miracle".
An official statement from the Moran Mountain Team said: "In light of recent media reports, we would like to issue a statement from the Moran Mountain Team with regard to the legality and permissions for Peak 6477, where the accident occurred.
"We want to be very clear that all permits and permissions were in place before the expedition set off from the UK. The open permit acquired from the Indian Mountaineering Foundation (IMF) covered the peak of Nanda Devi East and all peaks which could be reached from the Base Camp for Nanda Devi East, peak 6477 being one of these.
"The team met with the IMF before the expedition and discussed their plans to summit Peak 6477 during their trip.
"All permit documentation, signed and stamped, detailing these facts is in our hands. To be very clear, the sources of information in the media are not factually informed and are speculating on a situation in which they were not involved.
"We would like to express our heartfelt gratitude to everyone involved in the ongoing rescue and recovery operation and we are supporting them in any way we can.
"We will be forever thankful for the outpouring of love and support shown to those affected at this difficult time."
The mountaineers began ascending Nanda Devi on May 13 with the four other climbers, who were rescued on Sunday.
Mr Moran, originally from Tyneside, has been a mountain guide since 1985. His grown-up children Hazel and Alex both also work with the family business.
Mr Moran is also a member of Torridon Mountain Rescue Team.
The rest of the group have been named locally as John McLaren, Rupert Whewell and academic Richard Payne from the UK; US nationals Anthony Sudekum and Ronald Beimel; Australian Ruth McCance and Indian guide Chetan Pandey.