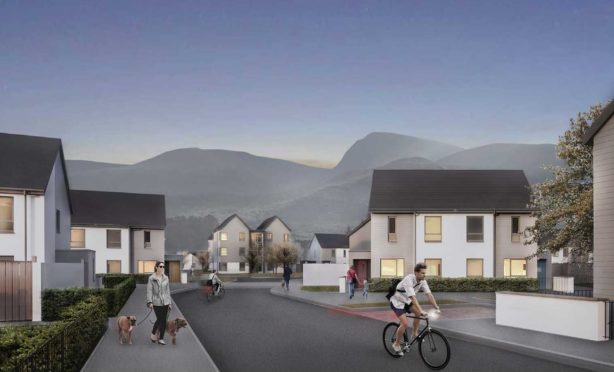 Lochaber councillors have questioned Highland Council's choice of heating system for a new social housing development at Fort William.
They queried the proposal to introduce gas into the Blar Mor estate, planned for Lochyside, claiming the community is against such a move.
The Blar Mor development will be a mix of properties with some houses potentially for sale and others available to rent.
The wider site includes land for a new hospital, science centre and room for further housing development.
Caol and Mallaig councillor, Ben Thompson, said: "I strongly support this development, I like the style, the layout and the location.
"But there is community concern about the introduction of gas into Fort William.
"We don't have a gas network here and we've had a steady shift towards solar, air source heat pumps and biomass for heating social housing.
"We've got really good systems now for heating, the tenants I talk to are very happy with it."
Fort William and Ardnamurchan councillor, Niall Maclean, added: "We also need to consider ground source heat pumps as they have a better co-efficiency."
Mr Thompson moved to strike detail about the houses being heated by gas from the plans, and asked that more justification be provided as to why gas is most appropriate.
He said: "Personally, I don't think it is and I want to get to the bottom of the reasons why gas is preferred.
"The community is concerned because there is a proposal to introduce a gas terminal into Fort William to supply the smelter and this site is directly on where the gas pipeline might go.
"That may be completely irrelevant to this application but anyone looking at it might suspect it has something do with it."
Highland Council says its consultants carried out a detailed option appraisal on potential heating systems and, based on carbon emissions, capital costs, running costs and flexibility of use the gas system was recommended.
A council spokeswoman said: "No final decision has been made on which system will be adopted.
"There are no plans to tie the proposed heating system to the smelter or any further potential initiative."
Mr Thompson's amendments were agreed and the development will now go out to tender with a start date planned for October.
At the same meeting, councillors approved plans for the first 176 homes in Fort William's Upper Achintore area.
Concerns have been raised about drainage and traffic calming measures in the area, which will eventually have up to 325 homes built on it.