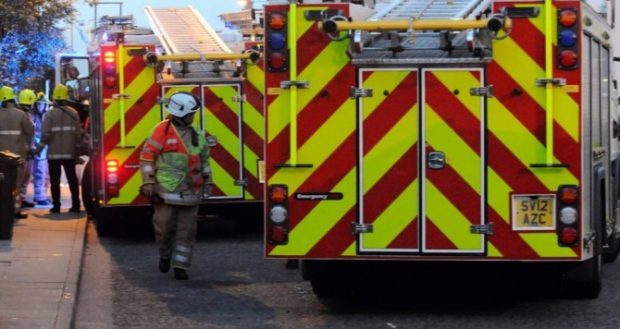 A former fisherman killed in a fire at his Orkney home has been described as a "kind soul" and part of the "fabric of the community" in Hoy.
The elderly man, named locally as Billy Mowat, was discovered inside his property yesterday morning after local fire crews shipped reinforcements over from the mainland to extinguish the flames.
Local councillor, Magnus Thomson, said the community was "really shocked" by the sudden loss of the well-known local character.
Mr Thomson added: "Billy was a gentle, kind soul who was well thought of on the island. He was a fisherman all his life and this is a very sad day.
"My thoughts go out to the family."
Stromness and South Isles councillor, James Stockan, said: "Mr Mowat was a character and one of the people who are very much part of the fabric of the community.
"When events like this happen in remote areas it has a particular effect on the community, and also the families.
"My deepest thoughts and prayers are with the family and for everyone in the community at this sad time."
Detective Inspector Scott Macdonald said: "Our thoughts are with the man's family and friends at this difficult time for them.
"Inquiries are now ongoing to establish the full circumstances and we are working with the fire service."
The blaze began at the house in the St Colm's Quadrant area of Longhope shortly after 9am.
A fire crew from Hoy was first on the scene and a second engine was transported over from Stromness on the MV Hoy Head ferry to get the incident under control.
Glenn Porter, marine superintendent of Orkney Ferries, said: "We had one of our scheduled ferries transport one fire service vehicle over to Hoy at the request of the Shetland coastguard.
"The ferry departed for Hoy around 30 minutes behind schedule, with the fire engine on board.
"We also assisted in transporting police in the afternoon.
"This coincides with our arrangement with the emergency services whereby, if there isn't a scheduled ferry at day or night, we will organise our crew to assist in chartering them where they need to be, which happens quite frequently."
Police confirmed there are no apparent suspicious circumstances, and a report is being prepared for submission to the procurator fiscal.
Anyone with information has been asked to contact the force on 101.