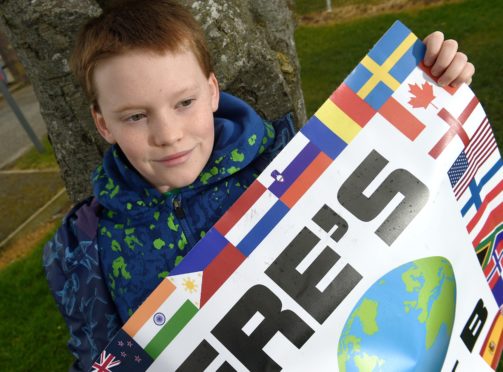 Television wildlife presenter Chris Packham describes him as "inspirational."
And now an 11-year-old boy from Ullapool in Wester Ross is wanted around the world as a plastic pollution and wildlife campaigner.
Finlay Pringle hit the headlines last year when he was "sacked" as an ambassador for sharks and subject to trolling him after he posted online his opposition to a controversial project by TV survival expert Bear Grylls.
The youngster was left distraught by the experience, but was hailed as a hero by BBC Springwatch presenter Mr Packham for standing up to the intimidation.
Now Finlay's fame has spread and he is off on a mini-world tour.
On June 26, he travels to Vancouver in Canada on an international scholarship to attend the prestigious Ocean Heroes Bootcamp.
The three-day event trains young people to be global ambassadors for fighting plastic pollution and was conceived by Captain Planet Foundation and Lonely Whale with the goal of empowering the next generation of ocean health leaders.
It is supported by the Point Break Foundation.
On his return to the UK, Finlay will head straight for Sheffield for the Children's Media Conference 2019 after being selected as one of ten 'change makers'.
His presentation will be on sharks, plastics and climate change and how the media can help educate and spread positive message to young people.
---
Local and Proud: Follow our new Facebook page dedicated to the Highlands and Islands
---
In August Finlay will be on a youth panel at the Bird Fair at Rutland Water with other young wildlife campaigners answering questions from the audience on subject of wildlife's future and the impact of climate change.
He will meet up again with Mr Packham, who is introducing the event.
Finlay's mother Rachel said: "We are very proud of Finlay. He is so passionate about trying to persuade people to make a difference to the planet.
In March, Finlay took his anti-pollution message to the heart of the European Parliament.
He travelled with dad Geoff 2000 miles by train on a return journey to lobby over climate change. Finlay was one of only three children from the UK to join pupils from countries across the world including Austria, Belgium, the Czech Republic, France, Germany, Hungary, Iran, Ireland, Italy, Luxembourg, Latvia, Lithuania and the Netherlands.
"Most of all I want the people who make decisions over our lives to see this world is dying," said Finlay.
"I want them to reduce man's carbon footprint as well as cut back on farming and plastic use."