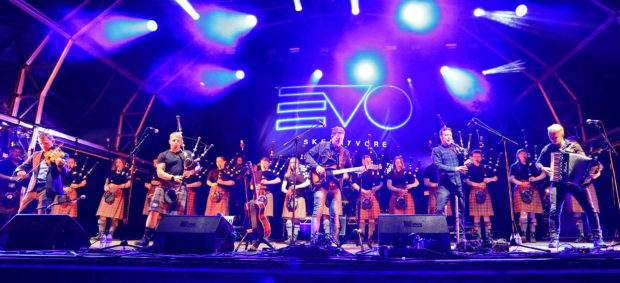 Organisers of Argyll's biggest annual outdoor live music concert have announced they will not be hosting the event next year amid a dispute with the local authority.
Organisers feel they have been backed into a corner by Argyll and Bute Council over increasing costs and the deterioration of facilities at the festival's Mossfield Stadium location.
The lively event, which has been a mainstay in the festival calendar since its inception in 2016, was created by band Skerryvore and a sold-out 10th-anniversary concert at the venue.
Announcing the news, the band said the decision was "not taken easily" but was "inevitable due to the lack of development and improvement of Mossfield Stadium".
They added: "We can no longer keep absorbing the huge costs and risks associated with hosting this event while the facilities deteriorate and costs increase.
"With no confirmation from the council with regards to development or funding going forward then we have no option but to place Oban Live on hold.
"We sincerely hope that we'll be back in Oban and Mossfield again in the future when the time is right."
Organisers have also revealed they have spent £1.5million to deliver Oban Live, with the ambition of creating a "sustainable event" at a "vastly improved Mossfield" to serve various groups and organisations in the local community for generations to come.
Local councillors have reacted with sadness, with both Julie McKenzie and Jim Lynch calling upon the authority to do everything in its power to rectify the decision.
Councillor McKenzie said: "This is a travesty for the community of Oban and also for all the people who travel from far and wide to enjoy Oban Live.
"The councillors involved behind the scenes should be ashamed of themselves for allowing things to reach this point."
Mr Lynch added: "Failure to invest in Mossfield now will bring the staging of important events in the future into question. The loss of revenue as a consequence of no Oban Live in 2020 will be far-reaching and damaging for our local businesses and tourism.
"Oban Live has become an iconic cultural event and if things don't change there are no guarantees that it will return to Oban again."
Revellers had flocked from across the globe to attend the festival, with the event contributing approximately £6million to the local economy over its lifespan.
A council spokeswoman said: "It is very sad news that Oban Live organisers have decided to give the event a break in 2020.
"Oban Live 2019 received £15,000 from the council, the second highest amount granted through our Strategic Events and Festivals Fund.
"These are tough times for councils. There are many things we would like to do, like upgrading a sports pitch into a multi-event stadium, but at the moment we are having to concentrate limited resources on delivering essential services."