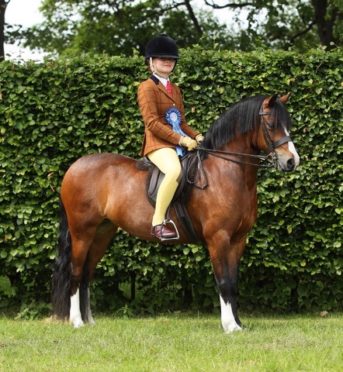 A 12-year-old girl from Shetland has qualified for the prestigious Horse of the Year show.
Keiva Robertson, from Walls, and her pony Broughton Tiffany landed the spot after impressing at the Royal Highland Show in Ingliston at the weekend.
The Horse of the Year show takes place at the National Exhibition Centre (NEC) in Birmingham in October and it is described as the "ultimate celebration of the horse".
It features competitions in a number of areas like showing, show jumping and dressage.
The Royal Highland Show is the only event in Scotland that competitors can qualify from.
Mum Avie Robertson said Keiva specialises in working hunter, which is a combination of jumping and the flat, but she qualified on the flat.
"It was brilliant," she said.
"It's a massive thing. It's the big thing that you always hope that you'll get a ticket for."
Ms Robertson added that Keiva, a regular of local pony events, got Broughton Tiffany in 2015 when she was young and has "done all the hard work herself".
She said: "It took a peerie while to sink in. She undertands that Horse of the Year is a huge thing, but she's never been at that level.
"Kieiva got her in 2015 as a lead in pony. She's done all the hard work herself."
The Horse of the Year Show (Hoys) was first held in 1949 at the Harringay Arena in London, but moved to Wembley ten years later.
The show made Birmingham its permanent home in 2002 when Wembley was closed for its transformation.
Its purpose was to be a champion of champions Show, and originally took the best from showing and show jumping competitions throughout the year.
The show takes up over 50 acres of the NEC complex. Every year, the Sunday Gala Night concludes with Ronald Duncan's emotive Ode to the Horse, read by Simon MacCorkindale until 2010.