Delight as rowers set new Loch Ness record after crossing the line by the narrowest of margins
By
Chris MacLennan
June 26, 2019, 7:04 pm
Updated: June 27, 2019, 6:43 am
A world record that has stood for 26 years has been beaten – albeit narrowly – by a hardy band of 14 rowers on Loch Ness.
The record attempt took place in the blistering sunshine, with famous Scottish adventurer Jock Wishart leading the crew by navigating their specially crafted rowing boat.
The team completed the 20.5 mile row alongthe loch in two hours, 26 minutes and 57 seconds – beating the previous record by one minute and 12 seconds.
The crew left the starting line at Dores at 2pm.
The previous record, which stood for 26 years prior to yesterday, was set by former World Lightweight Sculling champion Peter Haining and his partner George Parsonage, who navigated the distance from Fort Augustus to Dores in a time of two hours, 28 minutes and nine seconds back in April 1993.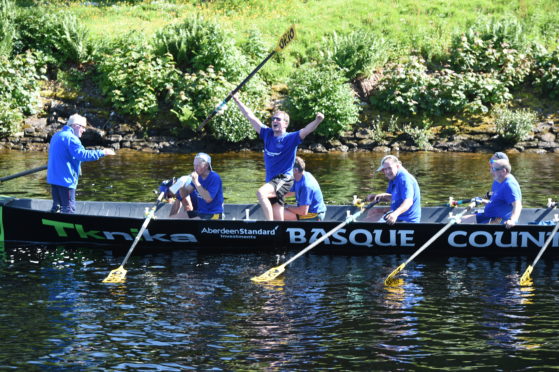 Mr Wishart said: "Wow. This is just marvellous. It is more wow because it was harder to do. You never remember the easy wins, it's the hard ones that count and this one is definitely right up there.
"First of all, I thought the guys were amazing. Everyone just put everything into it and you can see by the state of some of them at the finish that it is no light challenge.
"At the end of the day, it doesn't matter whether it is two minutes or two seconds, we got there. And that is all that really matters. We set a new standard and it is there to be beaten now.
"In the end, they wanted it bad enough and if you want something bad enough – you usually get it."
Prior to the Monster Row challenge, the team were incredibly confident of beating the previous record – however, it was touch and go yesterday with the time requiring verification before it can be made official.
The world-record attempt is part of a unique trio of challenges being undertaken by the crew, with attempts to break further records on the English Channel and the Thames due to take place later in the year.
Mr Wishart added: "I actually feel this is the hardest. The channel is next and I think that will probably be a little bit easier.
"The time makes this one a little bit harder and that was no light effort."
Crew member Nick Mepham said: "It's a great record to beat, set by great athletes, and it was hard work to do it.
"I am happy and relieved. I am happy we have got the record and relieved that we are out of the boat."
Video courtesy of MadMac Wolf Media and P&J photographer Sandy McCook.
More from the Press and Journal