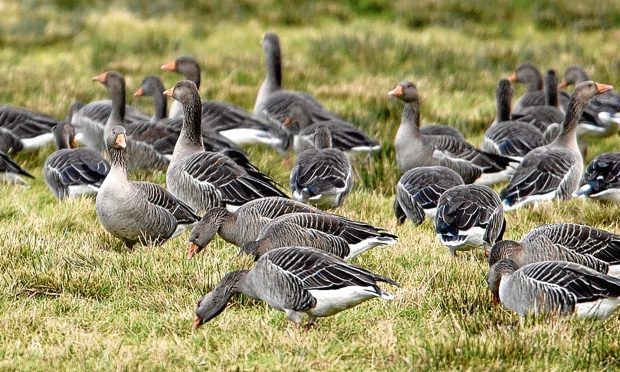 Crofters in Orkney are to receive additional support in helping to tackle the destruction of their crops by greylag geese.
The Scottish Natural Heritage are working with the Orkney Goose Management Group to implement a number of measures to help farmers across the island tackle the growing problem as a result of a rapidly rising population of geese in the region.
As part of the public bodies latest package of measures, a number of volunteer shooters will be made available between August and September to undertake goose control on farms experiencing issues whilst an expert in corralling geese will visit, and advise farmers on how this might be implemented on Orkney.
Graham Neville, SNH's Northern Isles and North Highland area manager, said they were committed to helping local crofters protect their land.
He said: "We understand increases in greylag goose numbers have seriously impacted on farmers and crofters on Orkney. Working closely with the local goose management group, we have committed to measures that will help protect crops, while still maintaining the balance between conservation, farming and hunting."
A study will also be conducted across Orkney to help create a plan dedicated to reducing the numbers of geese affecting the area.
The study will consider a variety of options including shooting, egg oiling and corralling to help drastically reduce the rising population to just 5,000 birds.
The announcement comes just one day after the farmers were given excess funding and approval to continue killing the species and sell the meat on the islands until the end of the year.
The cull pilot scheme was launched in an effort to help farmers minimise the destruction of their crops and contain the widespread impact the species are having.
Pilot studies have so far been carried out in communities across Orkney and the Western Isles to assess the impacts it is having on the quarry species.