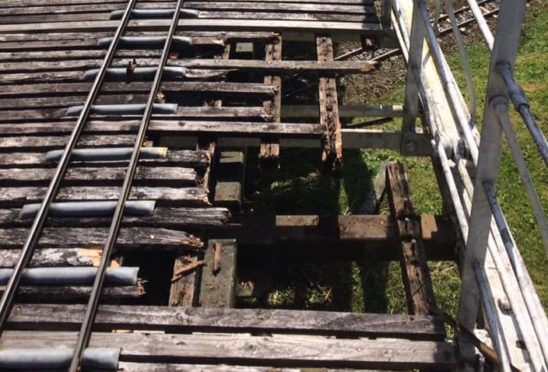 Inverness's famous children's railway has come to a standstill a section of the track was badly damaged in a suspected vandalism.
Ness Islands Railway, owned and operated by the Highland Hospice, will close today for emergency repairs after a bridge was left with a gaping hole, making it too dangerous to run the train.
To accommodate the works, the charity is now planning to re-route the single looped track away from the bridge, creating a smaller loop which passengers will travel round twice.
Dozens of people have already come forward to lend their support in repairing the bridge, following an online appeal by the charity.
Andrew Leaver, Head of Fundraising described the act as "ridiculous and sad".
He said: "I was speaking to one of our volunteers today who was helping me get some flyers out and she has grown up with that railway. If you are an Invernessian and you're into your late 30's you rode that railway as a child. You will have taken your children and some have taken their grandchildren. It shouldn't be done to what's a community asset and well-loved station regardless of ownership.
He added: "It is reassuring that everyone is on our side because it is demoralising seeing that thinking no-one cares but that's not the case. It's very much supported."
This devastating act comes just three months prior to major repair works scheduled to take place on the bridge in September following a grant from the Inverness City Heritage Trust.
Mr leaver said: "It's safe, we check it daily. There is enough solid timber there for it to be completely safe during the summer but this damage is beyond.
"We are going to do a quick and safe repair  which we would like to be able to get done for the school holidays  so that people get a whole run of the track and then we are doing a full bridge repair in September."
With funds from the railway donated to the Highland charity, Mr Leaver admits that a long term closure at this time of year will ultimately result in a loss of vital income.
He said: "We are certainly losing tomorrow and if we don't get the repairs to the bridge this week then I think we will start to lose income at the start of the term and that's our big season, during the summer when it's open daily and the kids are off school."