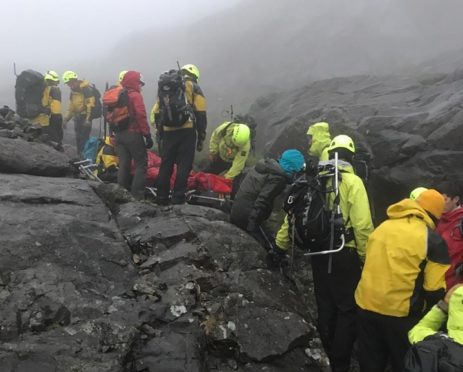 A man who fell on an island mountain and shattered a disc in his spine is raising money for the people who came to rescue him.
Climber Owen Bell, who started a crowdfunding campaign from his bedside, has already raised more than £1,000 for Skye Mountain Rescue Team after they helped him off Sgurr Dhearg on June 18.
Skye Mountain Rescue Team completed a nine-hour rescue to bring Mr Bell down the hillside to below the cloud line so he could be airlifted to hospital by the Coastguard rescue helicopter.
Mr Bell explained: "Having successfully and uneventfully summitted the Inaccessible Pinnacle at Sgurr Dhearg, I was walking back out to the car park at Glen Brittle.
About a mile-and-a half from the car, I lost my footing, tumbled and struck my head on a boulder with enough force to crack the helmet I was wearing.
"The angle that I'd hit the rock at sent a shockwave down my spine that shattered my sixth thoracic vertebra, leaving me unable to get down the hill myself.
"22 volunteers from Skye Mountain Rescue Team carried hundreds of kilos of kit up the mountain by foot in cold and wet conditions,  putting their own well-being at risk, in a nine hour recovery operation to get me below the cloud line where a helicopter could take me to hospital.
"Everything they did was in good humour and with not only my safety but my constant comfort in mind."
Mr Bell added: "Thank you to everyone who has donated so far – it's really touching to see the support.
"The injury doesn't seem real to me, but when I think about what Skye MRT did for me I find it hard to maintain composure.
"I've been immobilised in hospital under threat of having three vertebrae pinned together.
"(But) That's looking unlikely now, with the broken bone fusing on its own with rest."
A spokesman for Skye MRT added: "We wish Owen all the best in his recovery and fund raising.
"Skye MRT members assisted Owen who, after successfully climbing the Inaccessible Pinnacle, tumbled while descending the path from Bealach Coire na Banachdich and seriously injured his back.
"After a tricky stretcher carry through the clag we were all happy to see our colleagues from HM Coastguard Helicopter R948 below the cloud base. We transferred the injured man into the helicopter which then flew him to hospital."
The fundraising page can be found at www.justgiving.com/fundraising/owen-bell-skyemrt