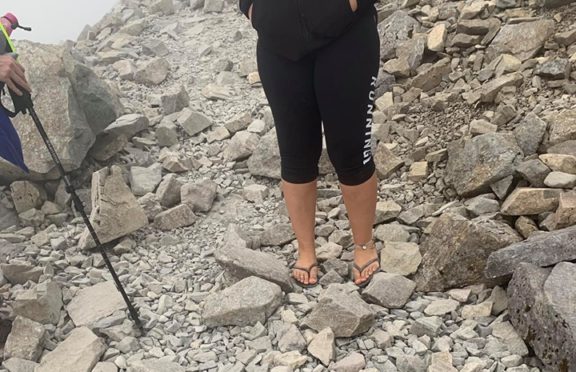 A young woman who was discovered on Ben Nevis crying because her feet were sore, after she attempted an ascent of the mountain in flip flops, was roundly criticised by climbers.
The woman, who is believed to be a tourist in the area, had attempted an ascent of the UK's Highest peak wearing flip flops, but had to turn back after she found the climb too difficult.
It is understood that the woman was seen about half way up the mountainside, Ben Nevis reaches to 4,411 feet.
A group of climbers who had been preparing for the climb for months as part of a fundraiser, were horrified when they came across the women.
On a post on Facebook, climber Janey Bannatyne said: "Can I say that there is some things you should never do? And this is the craziest thing I have ever seen in my life.
"Let's walk Ben Nevis in flip flops. Really? Needless to say she didn't get to the top."
Later Ms Bannatyne, from Glasgow, told the Press and Journal: "I have had a lot of abuse during the night from trolls after I put up the picture.
"But once the yobs fell asleep today, it has been fine. More than 1,000 comments on one site , just as well I have thick skin and ignored them. Some people!"
Ms Bannatyne was raising money for a men's mental health charity and made the ascent with 11 friends.
Stacey Moore, who was climbing with her boyfriend, said: "We could not believe that this woman was on the mountain in flip flops.
"When we saw her, she was very upset and looked like she had hurt herself."
Last year, a walker was blasted for attempting the hill in work boots  – having to be rescued by an emergency team.
The stranded walker, who was on the main path, was airlifted off the 4411-ft high mountain by the Inverness-based Coastguard search and rescue helicopter – but not before John Stevenson, leader of Lochaber Mountain Rescue Team, gave him a "piece of my mind."
"His fingernails must be damaged because he was hanging on at one point to stop him sliding away. He had no crampons, no ice axe.
"He had a jacket and gloves but not much else. You are asking for trouble. He has been incredibly stupid."