Delight for parents as police admit investigation into death of Wick electrician 'fell short' as independent review ordered
By
Alistair Munro
Police in England will carry out an independent investigation into the "unexplained" death of a north man more than 20 years ago.
Kevin McLeod was found dead in Wick harbour after a night out with friends in February 1997.
The 24-year-old electrician's family has always believed he was murdered and have been fighting for "justice and answers" since the tragedy.
Now Merseyside Police has been asked to review the investigation by Northern Constabulary, along with all further inquiries carried out by Police Scotland since its formation in 2013.
Police yesterday admitted the original inquiry "fell short" after a two-hour meeting in Inverness with Mr Mcleod's parents, Hugh and June, and Crown office bosses.
It comes after it emerged that officers were told to treat Mr Mcleod's death as a murder in 1997 and investigate it accordingly, but did not.
Mr Mcleod said: "We are delighted at this response given that Police Scotland refused for years to instruct an external force to investigate.
"At last this has finally happened. They probably know the family will not rest until everything possible is done. We are not going away until we find out why police failed to deal with this as murder as instructed and destroyed Kevin's clothing."
Mrs Mcleod added: "When we were told I just thought 'wow' at last. We have waited a long time for this to happen.
"I want justice for Kevin and finally answers. For a family to be fighting like this for so long is horrific. But we have waited this long, so I am sure we can wait a bit longer for the answers we want."
Kevin's uncle Allan Mcleod described the meeting as "positive, open, transparent and constructive", but added: "What frustrates and angers the family is that police had previously continually stated that no evidence of criminality was found.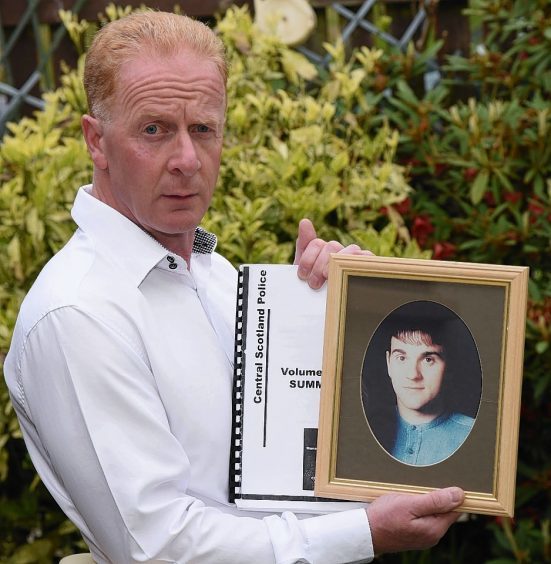 "The reason for this is simple: because police did not look for any evidence of criminality, despite the prosecutor's instruction to investigate Kevin's death as murder, and the pathologist's conclusion that Kevin's injuries were possibly consistent with 'a kicking' received several hours before death.
"Plus, police immediately destroyed what evidence there was – Kevin's personal belongings. The initial investigation was over before it began, with no murder inquiry ever been undertaken.
"The decision to invite an external force is the right one and it is because the chief constable advised the Lord Advocate that the family's trust in policing in Scotland is at an all-time low.
"This gives the family confidence that we are at last being listened to.
Family of Kevin Mcleod frustrated with no action from latest police probe
"Hopefully the new investigation will take seriously claims by witnesses who saw a commotion at the harbour on the night in question, and that of possible police involvement."
Assistant Chief Constable Gillian MacDonald said: "Initial inquiries by Northern Constabulary fell short of the required standard and opportunities to gather vital evidence were missed.
"It is Police Scotland's unequivocal position that we fully accept that an instruction was indeed given by the then procurator fiscal to treat Kevin's death as a murder and to investigate it accordingly, which Northern Constabulary at that time failed to do.
"The tragic events surrounding Kevin's death remain unexplained, however we are fully committed to investigating any new evidence which may come to light.
"Kevin's parents, Hugh and June Mcleod, have suffered unimaginable pain and trauma for more than 20 years as they search for answers regarding his death.
"It is only right that Police Scotland does everything it possibly can to address these unanswered questions."