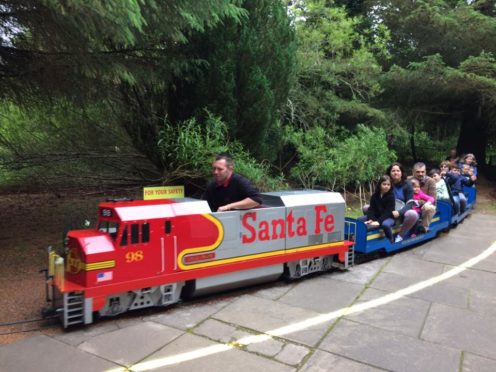 Inverness's children's railway has reopened for business a week after it was forced to close over safety concerns.
Ness Islands Railway was first established as a family–owned business in 1983 and has since become a popular tourist attraction in the city.
The 30-year-old railway– owned and operated by the Highland Hospice – ceased operations last Friday after a bridge incorporated in the route was left with a gaping hole in a suspected act of vandalism.
Ness Islands Railway forces to close after track is vandalised
Volunteers swiftly re-routed the tracks away from the crossing to facilitate emergency repairs, however, upon closer inspection, the bridge was found to be in a state of disarray sparking major safety concerns.
Taking to social media yesterday, the charity said they were "delighted" to be open for the summer season.
They said: "We are delighted that we are open today and plan to be open every day between now and 20th August – if the weather is kind to us."
The charity is now hopeful to bring forward their planned renovation works to the crossing – costing in the region of £12,000 to £15,000 – to replace all the timbers and repaint the entire structure.
The six week programme of works – due to begin in September – is being partially funded by a grant awarded by the Inverness City Heritage Trust.
In order to meet the remaining costs, a public fundraising appeal was launched on Monday which has since raised more than £1100 of their £5,000 target.
All funds raised will be used to repair the destroyed Ness Islands crossing and purchase another engine for the signature train, to help keep the railway running in the decades ahead.
The railway will remain open between 11am and 4pm daily, weather dependent.