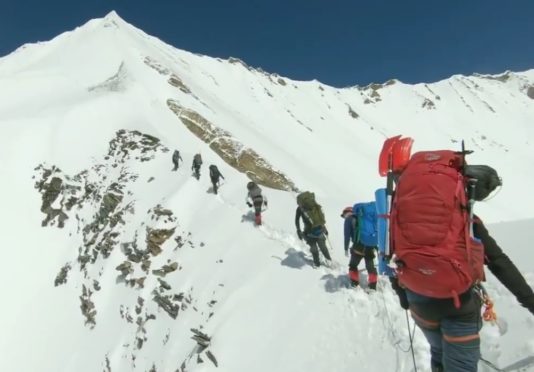 A poignant video of the tragic Himalayan climbing expedition, with a Highland leader, has been released by the Indian authorities.
The clip captures some of the last moments of the team of climbers before an avalanche struck.
It is understood the camera, containing the footage, was found buried in snow near the area where seven of the eight missing climbers were eventually recovered in June – the body of expedition leader Martin Moran remains missing.
The short clip shows the four Britons, two Americans, an Australian alongside an Indian guide very slowly making their way up an unnamed peak in deep snow.
Last visuals of the mountaineers' team near the summit on unnamed peak near the #NandaDevi east. ITBP search team of mountaineers found the memory video device at 19K ft while they were searching the area where bodies were spotted. pic.twitter.com/0BI87MEA8Y

— ITBP (@ITBP_official) July 8, 2019
The haunting footage shows the group attempting to climb part of India's second-highest peak – Nanda Devi – before contact was lost on May 26.
The clip, lasting one minute 55 seconds was released by the Indo-Tibetan Border Police (ITBP) this week, and shows the eight climbers roped together as they take short slow steps up an unnamed peak.
ITBP spokesman Vivek Kumar Pandey, suggested that the group's weight on a fragile snow ledge the group were walking on, could have caused it to give away, causing an avalanche.
He said the clip is being used to help "analyse what went wrong with their mission".
The footage, taken on what is believed to be a GoPro camera attached to head gear, was described, by ITBP officials, as the equivalent of a black box in an aircraft, in that, it gave an insight into the last few moments of the climber's assent of the peak.
Veteran British mountaineer Mr Moran led the team on an expedition up the 25,600ft Nanda Devi East , beginning on May 13.
Contact with the group was initially lost on May 26, as the prelude to an air search being launched after the group failed to respond on May 31.
The experienced climber from Lochcarron in Wester Ross set up his company Moran Mountain in Strathcarron alongside his wife Joy, their grownup children Hazel and Alex also work for the business.
He had organised regular expeditions in the region since 1992, where he worked with various local partners.