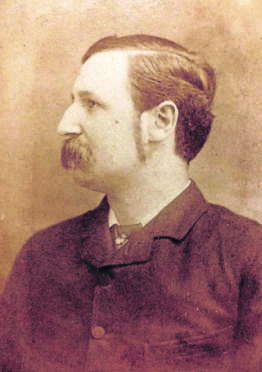 It was the unsolved crime of the century, and still the subject of many theories, studies and films.
But what many people do not know about the infamous Jack the Ripper is that the man hunting the killer through the streets of London was from Caithness.
Donald Swanson was born in Thurso but ended up at Scotland Yard after replying to an advert in the paper.
And now, his life is to be set out in a new book and illustrated talk in his home town.
Mr Swanson, moved to London in 1867, to be near his two sisters, and fell into being a police officer before rising through the ranks to be in charge of the Ripper investigation in the late 19th century.
Author Adam Wood said his biography of the Victorian detective has been decades in the making – and he is even taking a break from his honeymoon to appear in Swanson's home town with his soon-to-be-published book.
Mr Wood said: "Swanson was one of the real characters of the Victorian era. As a boy he brought up in Thurso, and seemed to have been very successful at school – being top of his class in at least four  of his subjects.
"He moved to be near his two sisters in London – they had previously married firemen.
"When the accountancy company he worked for closed, he had to find another job and I think he probably saw an advert for Scotland Yard and applied for a job.
"He rose through the ranks from being on the beat to being a member of the CID.
"He was the one person who saw every bit of evidence, every piece of paper to do with the Whitechapel murder cases."
Mr Wood said Mr Swanson even left behind some clues as to who he believed the Ripper actually was, a man he called Kosminski.
The book, to be published later in the year, is the first biography of Mr Swanson. Mr Swanson worked on other notable cases including the Philosopher's Stone, shocking revelations about the aristocracy, riots and stolen jewellery with a quarter-of-a-million pounds.
His incredible career does not stop there as he was involved in the recovery of the famous painting the Duchess of Devonshire, the Dynamite Campaign of the 1880s, body snatching in Aberdeen, the arrest of the notorious railway murder, Percy Lefroy Mapleton and a crazed captain with sea serpents in a bottle.
Thurso Heritage Society are hosting the talk in the Royal British Legion at 7.30 pm on Friday. A book signing will take place between 10 am – 1 pm on Saturday July 20 at Thurso Library.