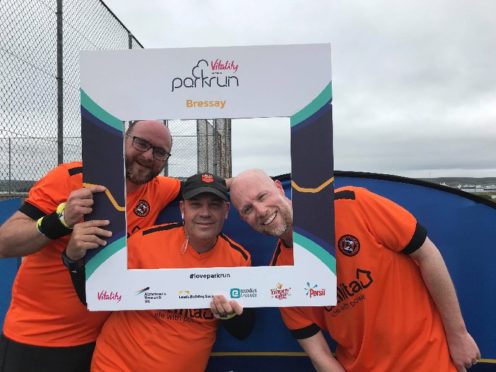 Two runners made a 17-hour jurney to Shetland to complete every Parkrun in the country.
Jason Ferrier, 46, from Edinburgh, met his best friend Lindsay Darling-Brackenridge, 39, from Dundee, while studying at Dundee University in 2002.
Living almost 60 miles apart, the duo – who are members of The Parkrun Arabs group – looked for practical ways of keeping in touch – leading them to tackle all 47 of the countries popular Parkruns.
They have since spent many weekends exploring the Highlands whilst completing 5km runs in destinations including Inverness, Alness, Thurso and Orkney.
The Edinburgh salesman spoke of how the pair came to take up the ambitious challenge. He said: "When my dad turned 60 a couple of years ago he decided to run the Edinburgh marathon festival and we all went along to have a look at it and cheer him on and he got a nice shiny medal and I thought I will have some of that behaviour.
"I roped Lindsay into it and said we are running this next year. I would say we trained for it but we are not athletes by any stretch of the imagination so we went on and did the Edinburgh marathon 10K and we got our shiny medals and then decided to do the odd Parkrun and that's how we started to get into it."
After what Mr Ferrier calls an "adventurous" two years, the best friends have now completed the final run on their extensive to-do-list.
Following a 17-hour journey from the country's capital on Friday, the runners and their friend Ian Hall arrived in Bressay bright an early on Saturday morning for the 9.30am event.
Mr Ferrier added: "It' a hard thing to do and it's taken two years to do it but it's a good wee achievement.
"We are just crazy, we knew we would do it eventually but it was just when."