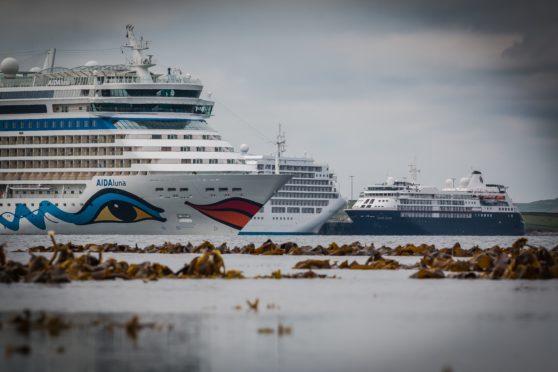 Orkney sailed off with another awarded for visitor satisfaction – with Kirkwall named Top Cruise Destination for Western Europe and the UK.
It was given the accolade from Cruise Critic, the world's largest online cruise resource.
Their awards are based exclusively on consumer ratings and reviews posted to their website over the past year.
Councillor Graham Sinclair, chairman of the Orkney Island Council's development and infrastructure committee, said: "We're absolutely delighted about the award which is based on first-hand feedback from cruise passengers themselves.
"This result reflects a phenomenal effort by our marine services team to ensure smooth port operations and a slick meet and greet service for passengers.
"But it also is testament to the local community – to the pride we have in our county, and the warm Orkney welcome that awaits our visitors at every turn."
It's not the first time Orkney has received accolades from the cruise industry.
Earlier this year, passengers from Viking Ocean Cruises voted Orkney as their top Northern European cruise destination from 46 competing ports.
And in 2010, Kirkwall was voted Best Cruise port in the UK by Cruise Critic – a high point reached again in 2016.
Orkney harbourmaster Brian Archibald, said it was a team effort, adding: "From the meet and greet and shore excursion teams, to the coach operators, tour guides and private tour providers, and to all those sites and shops which do so much to give our visitors a wonderful experience – it takes a lot of hard work and commitment to reach this standard.
"With other ports snapping at our heels, it's great that Orkney – once again and in common with so many other things which we do here – is top.
There were 138 cruise ship calls to an Orkney port in 2018, and 169 vessel calls booked for 2019 which is bringing about 160,000 visitors to the county.
Mr Archibald added: "Most of the growth is in the small to medium vessels and we are spreading the visits to other ports with about 22 calls to Stromness this year, including the anchorage at Cairston Roads.
"The very large ships, which are the trigger for road closures, remain steady at about 12 per year- so well under 10% of the total calls per year.
"For 2020, bookings are already at the 2019 levels – albeit growth of this rate is common across all the Scottish ports, Orkney still has the largest number of cruise ship calls of all sizes."
Cruise Critic boasts the world's largest online cruise community, with more than 50 million opinions, reviews and photos, covering approximately 700 cruise ships and over 500 worldwide ports.