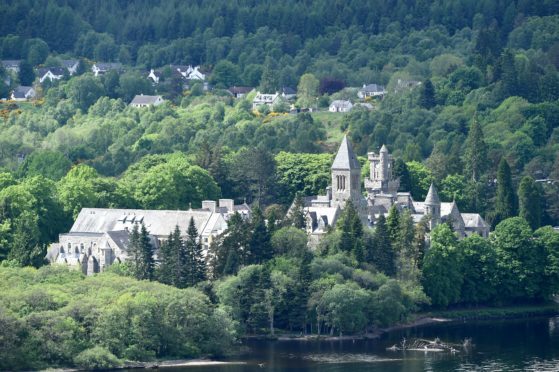 A former resident of a boarding school in the Highlands has claimed it was ruled by "hate and fear".
The man, who cannot be identified for legal reasons, was giving evidence to the Scottish Child Abuse Inquiry in Edinburgh where he described regimes of physical and emotional suffering.
It has heard opening statements for the investigation into care given by the Order of Benedectines at its residential establishments.
The witness, now in his 70s, was at the order's Carlekemp boarding school in North Berwick, East Lothian, between the ages of nine and 13.
He said: "I remember being beaten up. When I reflect upon it (the priest) really did lay into me.
"Slapping and punching – I was only a little boy.
"He came up to me, towering over me in his black robes, and really did lay into me.
"It wasn't just a slap – it was quite an uncontrolled attack. It was a flurry of blows, I think there must have been some punches as well."
The witness moved to the order's Fort Augustus Abbey School in the Highlands, where he stayed until he was 18.
The inquiry heard the boarding school was "away in a world of its own" when it came to the curriculum and had an "extremely authoritarian" ethos.
He described beatings that would leave boys "black and blue" and suggested children were made to take their pyjama bottoms off for punishments as the priests "enjoyed" it.
The inquiry heard the minimum punishment was 12 strokes of a leather strap on the hands, while the maximum would have been 10 hits with a birch branch on the backside.
These beatings were said to have been dealt out daily by the teachers – who were monks – for slight misdemeanours or perceived under-achievements.
The witness said: "The school was really ruled by hate and fear."
It was also heard that an enforced division between older and younger pupils helped breed an atmosphere of "institutionalised" bullying.
The English Benedictine Congregation used the opening statements as an opportunity to apologise to those who had suffered harm while in its care.
The order also announced there had been 10 settlements reached in relation to alleged abuse, as of June, with three claims still to be dealt with.
It was heard funds raised from assets of the order's Fort Augustus Abbey had been put into a trust to provide compensation to victims.
The inquiry before judge Lady Smith continues.