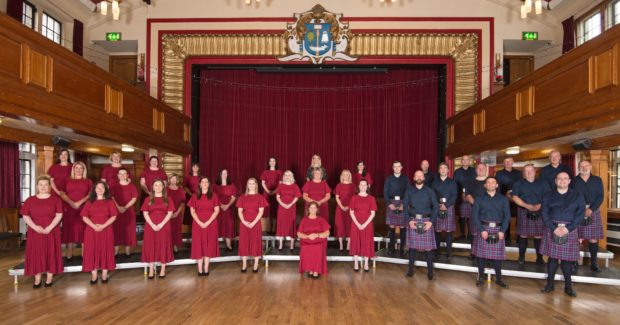 A special tartan has been designed for members of Scotland's 2019 entry in the Eurovision Choir Contest as they prepare to take to the stage in Sweden.
Scotland's 33-strong choir Alba will compete live against 10 of their counterparts from across Europe, in front of an audience of millions, when the competition returns for its second year on Saturday.
To help complete their look, a new signature tartan, Euro Alba – comprised of the choir's name and that of the event itself – has been commissioned by the House of Edgar, incorporating colours relating to the culture and diversity of Scotland.
Male choir members will wear kilts made of the blue tartan, with the addition of deep purples and ruby reds to capture the country's rich flora and fauna.
Flashes of orange have also been encompassed within the design to add a contemporary twist to the material.
Music and television presenter and former Argyll Mod winner Joy Dunlop will lead the choir in Gothenburg, where they will perform a Gaelic song with both traditional and modern influences – specially arranged by Sìleas Sinclair – in a bid to impress a panel of international choral music stars.
She said: "I am so proud to be conducting Scotland's debut entry at Eurovision and that the Gaelic language and our rich choral tradition will be seen and heard by millions across the world, maybe for the first time."
The choir features singers from across Scotland including Dingwall Academy teachers Kirsteen Maclennan and Steven MacIver.
The teachers are no strangers to the stage, having won gold medals at the Mod, as well as featuring in the local Gaelic choir as members, conductors and tutors.
In preparation for the fesrtival, Mrs Dunlop went on a journey which took her to Tel Aviv in Israel to attend this year's Eurovision Song Contest.
She spoke of how the experience has helped her prepare for the forthcoming challenge.
She added: "The highlight was being in Tel Aviv to see the Netherlands win this year's Eurovision Song Contest. The experience really inspired me, and we are now ready to wow the judges and take Eurovision by storm."
The group will compete against leading groups from Belgium, Denmark, Germany, Latvia, Norway, Sweden, Switzerland, Wales and returning champions Slovenia for a place in the final three and ultimately, the crown.
A 30-minute documentary charting the groups progress has been created and will be broadcast on BBC Alba today at 8.30pm.