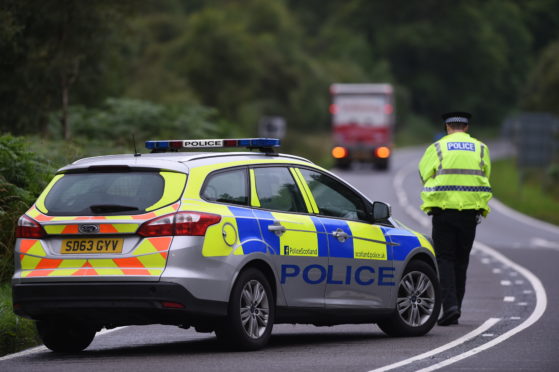 A 20-year-old was killed in a horror crash on the A9 in the Highlands yesterday.
The female driver and sole occupant of a Nissan Micra died following a rush-hour collision with a silver Volkswagen Golf and a red Alfa Romeo north of Dornoch in Sutherland – causing a 34-mile diversion and massive tailbacks.
The victim had not been named last night but it is understood she was local to the Highlands.
The tragedy happened shortly before 8.30am, around half a mile south of The Mound junction.
The female driver of the Volkswagen received treatment at the scene for non-life threatening injuries. The driver of the Alfa Romeo was uninjured.
The road was closed for around nine hours, with a 34.1-mile diversion in place via Lairg.
Road policing sergeant Alan Henderson said: "Our thoughts are with the young woman's family and friends.
"We are carrying out inquiries to establish the full circumstances of the collision and this investigation is at an early stage.
"Anyone who was on the road around that time and may have dashcam footage is asked to review it and pass on anything of note."
North MP Jamie Stone said: "My heart goes out to the family involved in this tragedy."
Caithness and Sutherland MSP Gail Ross added: "Another devastating loss of life.
"My heart goes out to the family for their tragic loss."
Sutherland councillor Kirsteen Currie said: "[It is] very sad indeed.
"Over the course of the last three days we are now into double figures in terms of road traffic accidents which have impacted human life or the road network."
Fellow local councillors also added their sympathies.
Richard Gale said: "It is always tragic to hear about such a serious accident and my thoughts are with the people concerned, their family and friends."
And councillor Jim McGillivray added: "It's tragic. My heartfelt sympathies go out to the families and any of the individuals who are part of this tragic accident."