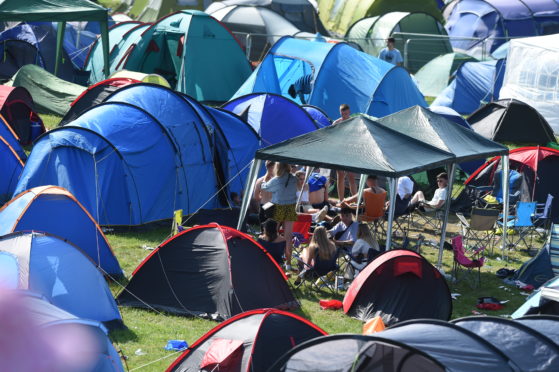 More than 1,500 abandoned items of camping gear have been salvaged from the Belladrum Festival to help refugees.
Dozens of volunteers came together to gather tents, chairs and other items to give them a second lease of life at refugee camps.
Volunteers from refugee support groups from the Highlands and Moray flocked to the Belladrum Estate on Sunday as revellers departed the 15th year of the popular music festival following performances from hit acts Jess Glyne, Chvrches and Lewis Capaldi among others.
The groups gathered any salvageable equipment that could aid those in need and are keen to raise awareness of the ways in which left behind items can be reused following the conclusion of festivals.
VIDEO: Take a look at some of Belladrum's highlights as the festival comes to a close
Matt Matheson, from Moray Supports Refugees, said: "We haven't got a final count just yet but we have gathered in the region of 700 folding chairs, 450 tents, 200 sleeping bags and a further 200 sleeping mats.
"We focused much of our attention on the red campsite.
"We are only able to salvage the stuff that is in good condition and we are really saving it from going to landfill.
"It serves a much greater purpose now and the majority of the items will be sent to Calais to assist over there."
The items will now be cleaned and dried before being gathered to fill a shipping container for transportation to areas of need.
Mr Matheson continued: "At the moment we are really relying on farmers who have not got so much silage just now to use their barns to dry out the tents, but we have also been kindly given use of one of the sheds at the Black Isle Showground, so that will allow us to dry out and pack the tents within about a day.
---
Local and Proud: Follow our new Facebook page dedicated to the Highlands and Islands
---
"The support has really been phenomenal and we really couldn't do this without them."
The cost of transport weighs in at £4,000 for a 20-foot container, or £4,500 for a 40-foot long container – prompting the Moray and Highland volunteers to club together to fill the larger container to generate the best value for money.
Mr Matheson added: "It will take us approximately four to six weeks to fill the container.
"It does give you a sense of satisfaction but it is something all of us who are part of the group feel is necessary.
"People maybe aren't aware that this is being done so we are asking that if you are going to leave your tent behind, leave it in a reusable manner – and if possible pack it up for us then that would be great."