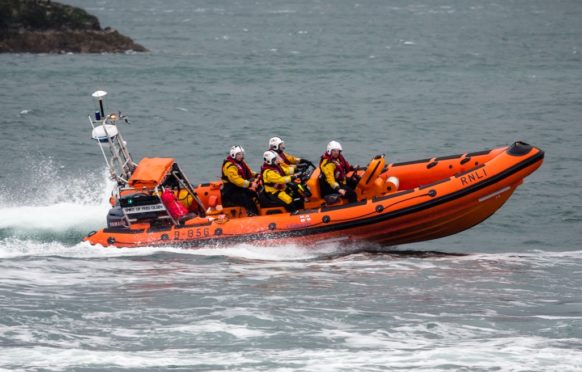 A car belonging to a family of tourists rolled off a pier into the sea on the west coast yesterday.
A couple and their child had left a car at Kylerhea on Skye for a sightseeing tour to see seals and otters.
But, while they were away, the silver VW Golf slid over the edge of the pier.
The activity at the pier meant that the MV Glenachulish car ferry, which has plied the short route between Glenelg and Kylerhea for 85 years, had to cancel its remaining services.
A spokesman for the Isle of Skye Ferry Community Interest Company, which runs the  boat, said: "The couple and their child had a very lucky escape.
"They couldn't have applied the handbrake firmly enough.
"Fortunately they were not in the vehicle. It rolled over the side of the slipway and turned upside down, but settled the right way up.
"It meant we had to cancel the rest of the day's sailings."
Kyle Inshore Lifeboat was launched at 1.15pm.
As the tide was coming in and the car was in danger of becoming fully submerged, the lifeboat crew assisted with securing the vehicle to the pier to enable it to be recovered.
A Kyle RNLI spokesman said: "Luckily the car was unoccupied when it rolled half way down the pier and fell off the edge.
"Due to the rapidly incoming tide, it wouldn't be long before the car was fully submerged – making it very difficult to recover out of the sea.
"Therefore, before departing the scene, the crew assisted with running lines to the shore to ensure that nobody else would have to enter the water during the recovery process later in the day."